NEWS
Watch Dave Grohl Kick Fan Out of His Foo Fighters Show in Expletive-Filled Rant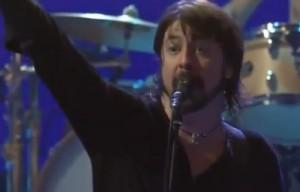 Article continues below advertisement
According to GigWise, Dave threw a fan out of his show at Roundhouse in London after he apparently started a fight in the audience.
''You don't f***ng fight at my show you a**hole," Dave yelled. "Who's that right there? Let me see him, who's fighting right now? It's that f***ing guy in the stripped shirt right there. Hey motherf***er look at me. Hey in the stripped shirt, look right here motherf***er. Look at me. Look at me, get the f*** out of my show right now. Get the f*** out. Get the f*** out of my show, right now."
''You don't come to my show and fight," he continued. "You come to my show to f***ng dance you a**hole. Get the f*** out of here. I don't put up with that bulls**t — you people came here to have a good time and that guy can f***off.''
OK! NEWS: KURT COBAIN REMEMBERED BY TWITTER ON THE ANNIVERSARY OF HIS DEATH
If you look closely in the video, you can see the "guy in the striped shirt" push his way out of the audience.
**WARNING! EXPLICIT LANGUAGE, BELOW! NSFW!***