NEWS
Watch Haley Reinhart Disagree With Randy Jackson's Judging on 'American Idol'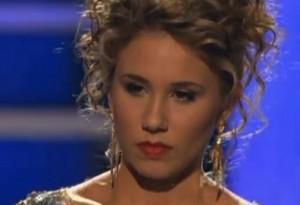 Does Haley Reinhart just not take criticism well or are the judges too hard on her? Jennifer Lopez and Randy Jackson weren't fans of Haley's performance of Michael Jackson's "Earth Song" last night on American Idol, but Haley talked back and defended her singing. Who do you side with?
OK! NEWS: AMERICAN IDOL BLOG — THE TOP 4 PERFORM!
"I want you to be thinking about that when you're choosing everything — what everyone else is doing," Jennifer Lopez explained to Haley. "That's part of competing."
Article continues below advertisement
"Jennifer is right," Randy Jackson said. "These are the things that I didn't like about what you did. To me, it confused me with who you are as an artist. The song doesn't really suit you or fit you... it felt like to me you were screaming and at the top of your range."
"That's not the top of my range," Haley said. "I just felt it."
"You needed to be singing runs at the end," Randy explained. "I felt like you were just screaming at the end the same note over and over."
"I didn't know I should have even have changed that." Haley argued. "I thought it was beautiful the way it was."
But Steven Tyler disagreed and yelled, "Don't listen to them."
"Listen, my opinion is I didn't like it," Randy said. "I thought you were screaming and I thought it was a bad song choice."
"I heard it!" Haley said. "I know what you have to say."
"Haley, what do you get from that?" Steven said. "They're both wrong."
Article continues below advertisement