NEWS
Watch Josh Hutcherson Reveal Crush on Jennifer Lawrence in 'The Hunger Games' Clip!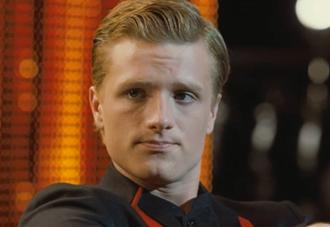 Spoiler alert for fans of The Hunger Games! A new clip has just been released of the interview between Peeta Mellark (Josh Hutcherson) and Casear Flickerman (Stanely Tucci) where Peeta confesses his crush on Katniss Everdeen (Jennifer Lawrence).
OK! GALLERY: JENNIFER LAWRENCE & THE HUNGER GAMES CAST BRING MALL TOUR TO MIAMI
This clip is so true to the book! MTV released the new video of Peeta's emotional interview before entering the Hunger Games. Only one of the 24 Tributes who enters the Hunger Games will make it out alive, and Peeta and Katniss are the two Tributes chosen from District 12.
Article continues below advertisement
Knowing the odds are not in his favor, the "boy with the bread" admits in the clip that he has had a crush on a girl for "forever."
"Well, I'll tell you what, Peeta," Casear says. "You go out there and you win this thing, and when you get home, she'll have to go out with you."
"Thanks, but I don't think winning is going to help me at all," Peeta says, "because she came here with me."
And then we get a look at Katniss' look of complete shock.