NEWS
Watch Kris Humphries & Khloe Kardashian Odom Fight on Kim Kardashian's Wedding Special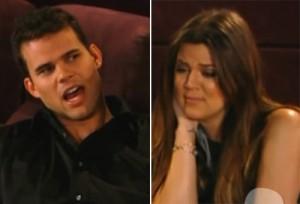 Part One of Kim's Fairytale Wedding: A Kardashian Event aired Sunday, showing the family's anticipation of the big day and all the planning that led up to the wedding. And there was also a healthy dose of drama, with Khloe Kardashian Odom continuing to attack groom Kris Humphries about his reasons for marrying her big sister Kim Kardashian.
Khloe married Lamar within three months after meeting him, yet she was skeptical about Kris' intentions, worried that he is a social climber who wants a piece of Kim's elevated media status.
Article continues below advertisement
OK! NEWS: KRIS HUMPHRIES & KIM KARDASHIAN — BIGGEST FIGHT EVER!
"I'm not really sure of the intentions in this entire situation," Khloe explained to Kris, with Kardashian pal Brittny Gastineau as a witness. "I just hope that everyone is thinking it through. I'm hoping your intentions are pure."
"What are you trying to say, I like this world?" Kris fired back.
"It's just very opportunistic of you... you have come up off of Kim," Khloe responded.
And then Kris turned the tables, putting the spotlight on Khloe's marriage to Lamar Odom.
"How dare you question someone else's marriage," he said. "Are you sure you're not just using Lamar? He's a Laker... he's got championships. After, are you going to find a tall successful guy to have kids with?"
Khloe explained that she was just trying to protect her sister.
Article continues below advertisement
"Kim is someone who falls in love heavy, and when she falls, she falls hard," she said. "Do I believe every time she falls it's the real deal? She is a hopeless romantic."
Kris said he is the one who needs to protect his heart.
"You are saying I'm just the fourth or fifth dude for Kim. I've never been married. She's been on that level with every guy she dates," he snapped back. "Maybe I should question her intentions."
The Kardashian extravaganza concludes tonight on E! with another two hours of wedding pandemonium. And we already know that the two happily got hitched.
Do you think Khloe was too hard on Kris? Catch the clip below and sound off in the comments.