NEWS
Watch Reese Witherspoon Take Back Bad Sex Scene Comments About Robert Pattinson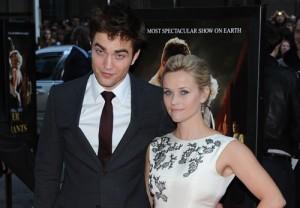 Reese Witherspoon sort of dissed Robert Pattinson when she said her sex scene with him in Water for Elephants wasn't that great since he had a bad cold. But it sounds like Rob had Reese set the record straight on the film premiere's red carpet!
OK! VIDEO: WATCH ROBERT PATTINSON PROMOTE WATER FOR ELEPHANTS ON TODAY
Make no mistake, Reese is a big R-Pattz fan.
"He's super-duper sexy," she told Access Hollywood at the NYC premiere of Water for Elephants on Sunday night.
Article continues below advertisement
But Reese previously said in a interview with MTV News that Rob's runny nose he had while filming their sex scene for the movie "wasn't appealing" or "pleasant."
Rob spoke out on Reese's comments to the Chicago-Sun Times saying, "I shouldn't have made my nose run. I was so embarrassed."
But now Reese has nothing but nice things to say about her sex scene with Rob!
"Let's just get something straight, it's still a sex scene with Rob Pattinson!" she told Access Hollywood. "I was having a very good time."
OK! NEWS: ROBERT PATTINSON "EMBARRASSED" BY HIS BAD SEX SCENE WITH REESE WITHERSPOON
"Oh, you were going to say something way better, Reese had a way better thing to say," Rob said.
"No, I only text you that, I wasn't going to say that out loud," Reese joked.
And Rob said he wasn't upset by what Reese said about his cold.
"No, I know that she secretly likes it… she likes it a little bit dirty… with green mucus, it's her thing," Rob jokingly said back.
Whether Reese and Rob had a good time filming the scene or not, fans won't be disappointed.
"The sex scene in the movie is super sexy," Reese explained. "It's really sexy."
Watch Rob and Reese's interview, below!
Water for Elephants hits theaters Friday!