NEWS
Watch Robert Pattinson Promote 'Water for Elephants' on 'Today'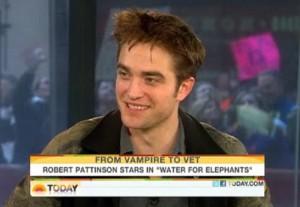 Fans camped outside the Today show studios overnight to catch a glimpse of Robert Pattinson, who appeared on the show this morning to promote his new film, Water for Elephants!
OK! NEWS: ROBERT PATTINSON "EMBARRASSED" BY HIS BAD SEX SCENE WITH REESE WITHERSPOON
"You play opposite a lot of animals in this one too, and I've always heard actors say that they don't like that. You seem to enjoy it, but a lot of actors come in and say 'it just makes every take longer,' " Matt Lauer explained on Today.
Article continues below advertisement
"I think it's so much better," Rob said. "I like working with kids and I like working with animals. The more unpredictable elements you can put into a scene the more I like it."
"What are you going to do with this stardom?" Matt asked. "I mean, you walk out there and it was crazy out there, but how do you parlay that into longevity in this business?"
"Who knows." Rob said. "You can't predict what an audience feels. I guess if you keep doing what you like doing and you try to make movies that you would want to watch yourself, then hopefully one other person in the world will want to watch them. There is no way to second-guess an audience so who knows."