NEWS
Watch Zach Galifianakis' 'SNL' Hosting Highlights!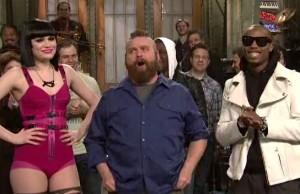 Zach Galifianakis hosted Saturday Night Live for his second time over the weekend and didn't disappoint with a rendition of "Tomorrow" from Annie. What did disappoint is that the video hasn't hit the Web yet!
Zack's opening monologue was funny, but it really didn't take off until his lip-synched performance of "Tomorrow." Wearing the famous short red dress, Zach danced around the stage, pulled his dress up a couple times and pulled back cue cards for the audience.
Article continues below advertisement
Zach also appeared in a digital short, which featured him interviewing children to be his new personal assistant.
Watch the digital short below!
OK! VIDEO: THE HANGOVER PART 2 TEASER TRAILER BRINGS BACK THE WOLFPACK
And finally, Zach ran backstage and shaved his hair into a mohawk at the end of the show saying, "Unfortunately, we did not get to the Mr. T sketch."
Watch the behind-the-scenes clip below!