NEWS
We Spotted Schmidt in an Episode of 'Gilmore Girls!' Watch Clips of Him on Other Shows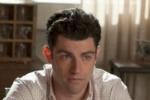 This past Sunday was fairly typical—lazy and full of TV. I was watching an episode of Gilmore Girls on SOAPnet (which is an amazing network, but you knew that) and spotted none other than in an old episode, playing one of the Dean's friends at his bachelor party! See for yourself:
While New Girl made Max famous, it certainly wasn't his first time acting. He's had small roles on a bunch of shows. Another awesome example? He played a young Sandy Cohen in a flashback on The OC. Of course, he's a college student campaigning for Mondale/Ferraro, and of course, he's adorable.
Article continues below advertisement
Max played a love interest on the cult classic show Veronica Mars, and because he was a love interest on a beloved show, YouTube is filled with nothing but love montage videos of them.
Max also had recurring roles on Greek and Ugly Betty, and appeared on an episode of MTV's steamy soap Undressed. And if you can find a clip of that, well, then I'll happily buy you drink! That show was amazing.
Do you remember Max appearing on any of these shows? Did you watch him on Veronica Mars or Greek? Are you a big Schmidt fan? Tell us in the comments below or tweet us @OKMagazine.