NEWS
What We Learned From Last Night's Real Housewives of Miami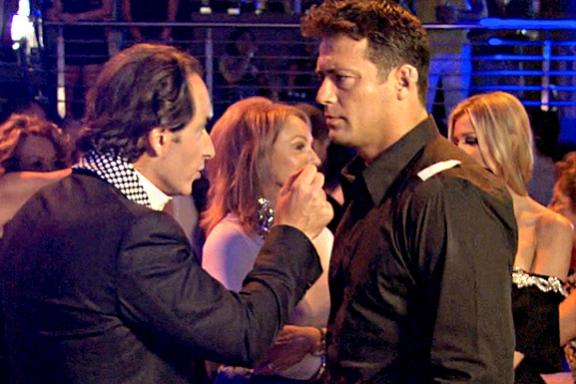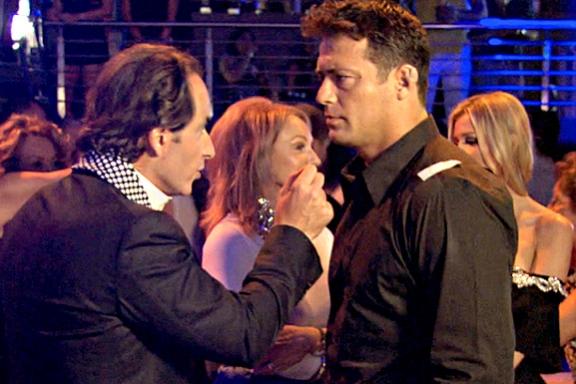 Romain surprises Joanna with their new home and initially she's less than impressed, but warms up to the place when she sees the stunning waterfront view. The talk turns to sex, or lack thereof, and we learn Romain has agreed to see a sex therapist.
OK! Magazine: Tamra Judge Reveals Which Housewife Didn't Send a Wedding Gift
Elsewhere Marysol and Alexia visit with a psychic. Alexia tries to get out of dodge because she claims to have a very strong power and energy that would interfere with Marysol's reading. Marysol wants answers about her mother's health. Whaddya know, the psychic tells her someone is performing black magic and wishing bad things for her mother. Someone with blonde hair. Someone who is about 50. Someone who sounds a lot like...Lea Black! Dun dun dunnnn...seriously, people? This smacks of a setup. I love psychic readings, I love Mama Elsa, but I am not buying this for a second. It's Miami, there are lots of 50something blondes hanging around.
Article continues below advertisement
Clearly taking a break from her sorcery, Lea is meeting with her fab decorators Fabio and Hernan and introduces them to Lisa, who just happens to be in the market for some home design. They rehash the girls' night gone bad with Adriana and her crew. Lea admits she was setting Adriana up on dates while she was apparently married to Frederic. Wha?
OK! News: All You Need To Know From Last Week's RHOM
Romain stands Joanna up at their sex therapy appointment and she breaks down about being torn between her fiance and her sister Marta. The therapist thinks getting the couple's sex life on track will be easy peas-y, getting Romain and Marta in a good place is another story.
Lance Bass sighting! Lea is a guest on his Sirius radio show and they talk about the upcoming Blacks' Gala. Lea needs to orchestrate another 'N Sync reunion for her next gala. Seriously.
We visit Alexia's office where she's putting the finishing touches on her magazine's party, which happens to be the same weekend as Lea's soiree. Ack!
Watch: Giuliana and Bill Rancic Take Baby Duke To An Amusement Park
Article continues below advertisement
Joanna and Romain argue over Marta and the fact he didn't show up to their therapy session. They seem to get past it.
Lisa asks Adriana about the marriage license Lea and Joanna showed her. Adriana has an answer, but the story is so convoluted it doesn't make any sense. She says she wanted a friend to perform the ceremony, but had to get a justice of the peace to sign the papers beforehand otherwise the marriage wouldn't have been legal. But wasn't there talk a few episodes ago about wanting a religious aspect to the wedding? Or maybe I'm just thinking of the angels she wants at her upcoming bash. Or maybe Lea is performing black magic on my memory. That must be it! Adriana denies dating while she has been married to Frederic. Then she asks Lisa to be a bridesmaid.
Alexia's Venue party is packed and Lea shows to lend her support, then literally begs the couple to come to her gala.
OK! News: Jerseylicious Star Tracy DiMarco Weds Corey Eps
Frederic tries to say hello to Romain and he rebuffs the gesture because he's angry about something Frederic said about him last year. An argument ensues. Joanna is trying to stay cool. Then Frederic clears the air with Lea.
Marysol and Ana show up and in an effort to rile Lea up Ana decides to say hello to Joanna. Then Alexia loses it when she sees Lea embrace Ana, saying she's a hypocrite. Did she want her to pick a fight with the woman instead? Isn't it better to be civil at a friend's party than start even more drama? I'm confused.
Next week the A-Team heads to a polo match while Lea and her peeps revel in the Blacks' Gala.
Did this week's episode change which side you're on? Tell us in the comments below or tweet @OKMagazine.