NEWS
What We Learned From Last Night's Real Housewives of Miami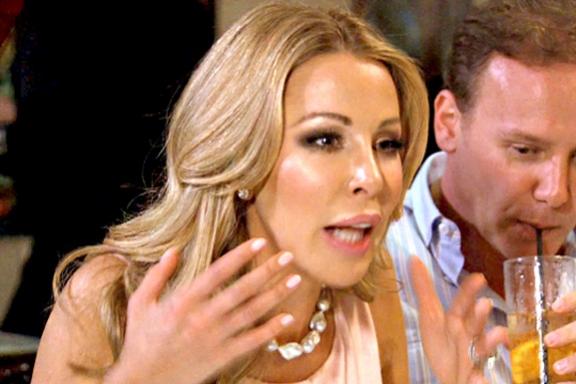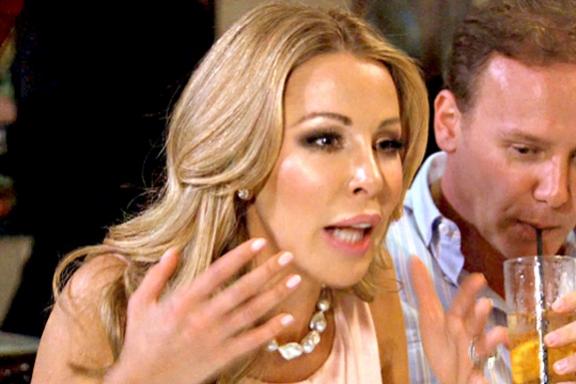 Last night's episode opens with Lisa experiencing a culinary adventure at a Russian grocery store with her mother-in-law Marina. Lenny's mom kind of reminds me of the Russian version of Marie from Everybody Loves Raymond. Awesome. I may start calling her Marie-na.
OK! News: Would Tamra Judge Recommend Planning Your Wedding in Five Weeks?
Adriana talks about the upcoming wedding with her son Alex. He seems very blase about the whole deal, like any typical 14-year-old. Adriana is upset because Lea has been texting Alex about coming to her son RJ's upcoming birthday party. Alex looks totally over it.
Article continues below advertisement
Frederic and Romain pop over to Hochstein Manor so Lenny can mediate the disagreement between the two. Lenny is like the Chris Laurita of The Real Housewives of Miami except in New Jersey when Chris has an intervention there's usually wine involved (my kind of guy!). Lisa occupies Marie-na, giving her a facial so she won't get all up in the men's business.
OK! News: 7 Cool Finds From Secret Room Events' Red Carpet Style Lounge
Fortunately no punches are thrown. Frederic apologizes to Romain for an offending tweet and everyone seems to be on the same page...for now.
Alexia and her son Frankie head to his physical therapy and speech appointments. The therapists assure her he's come a long way since his accident.
Joanna and her sister Marta catch up on the phone. Marta offers her blessing for the wedding and agrees to be the maid of honor...but says she can't fly out to LA to help Joanna with the wedding plans, like dress fittings and food tastings. Boo!
Article continues below advertisement
Lisa and Lenny head out to dinner with the elder Hochsteins. Marie-na asks why Lisa never returns her calls. She admits she doesn't think Marie-na really likes her. Lenny sticks up for Lisa and I'm so proud of him. Not every guy will take a stand against his mama. Lisa says she'd like to work on her relationship with her in-laws. I think this group is going to be just fine.
OK! News: Behold The Fifty Shades Of Grey Fine Jewelry Collection
MORE ON:
Alexia Echevarria
The A-Team congregates at a bridal shop to choose bridesmaids gowns for Adriana's big day. Just as Lisa says how nice it is to be around such positive energy, Adriana tells her she doesn't want her to be in Joanna's wedding, too. Classy.
Lea visits Joanna at her new home. Joanna breaks down about Marta's absence with the wedding planning. Lea offers to go to LA with Joanna to help her with dress fittings and all of that other bridal goodness.
Article continues below advertisement
Back at the ranch, Adriana pulls out a story from People magazine about Lea from 1995. Did she have to go to the library and use microfiche to find this? It was 1995! The article says Lea had a secret wedding and kept it from her friends for four months. We're all supposed to be disgusted so put on your mortified face. Here's a question: If Adriana really didn't do anything wrong why is she trying to dig up dirt on Lea?
OK! News: Rita Ora and Rimmel London Collaborate On Exclusive Color Collection
As luck would have it, Lea calls Lisa at that exact moment to invite her to LA to help with Joanna's wedding planning. Lisa agrees.
Adriana brings Marysol to her favorite store and Lea happens to call while they're shopping. She wants to know if she will come to RJ's birthday with Alex and Frederic. Adriana says she's not sure if she can make it but Alex will attend.
Article continues below advertisement
Apparently RJ planned his own birthday party and it involves fedoras, ties and...an orchestra? I think Adriana and Joanna should hire this kid to plan their weddings. He clearly thinks out of the box.
Watch: Lea Black Reacts to Last Night's Episode of RHOM
It's party day and the Housewives are out in full force, even Adriana, who says being in Lea's house is going to give her a heart attack.
Next week Joanna, Lea and Lisa hit the left coast, Adriana and Frederic continue their wedding plans and Alexia's son Peter may have more trouble with the law.
What did you think of last night's episode? Tell us in the comments below or tweet @OKMagazine.