NEWS
What Would the Countess Do?: Confronting Sex Tapes; Making Bad Jokes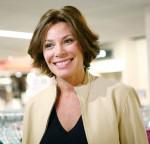 When it comes to etiquette, manners and overall good behavior, even celebrities need help navigating the rough waters of stardom! It's a good thing Countess LuAnn de Lesseps of the Real Housewives of New York is joining forces with OK! to school them on the right thing to do! In a rough situation, we just ask, "What Would the Countess Do?" This week we wanted to get advice on confronting sex tapes and apologizing for bad jokes!
Article continues below advertisement
OK! GALLERY: REAL HOUSEWIVES LOOK LOVELY AT LAUNCH PARTY
Would Kendra Wilkinson addressing her sex tape controversy on her reality show, Kendra, be the right move?
I can see why as a mother and wife, Kendra would want to stop the distribution of her sex tape. When she addresses the tape on her reality show, she'll be providing free promotion for its distributor. The lesson in this is that you should never put anything on film that you wouldn't want people to see. Film lasts forever and youthful indiscretions can come back to haunt you.
Tip: Remember videos are like tattoos, it's very hard to make them go away.
WHAT WOULD THE COUNTESS DO? STICKY FRIEND SITUATIONS; KEEPING SECRETS
How do you think Elisabeth Hasselbeck and Erin Andrews handled Elisabeth's joke that her peeping tom could have waited to see her on Dancing With the Stars? Was Elisabeth's apology genuine?
Elisabeth Hasselbeck's joke about Erin Andrews' peeping tom watching her on DWTS was tasteless. Just because you can make a joke, doesn't mean you should. It is important to think before you speak. If you make a faux pas like Erin did, the best solution is to apologize and move on. I think Elisabeth's apology was genuine and that Erin accepted it with grace. It's never appropriate to make light of another person's traumatic experiences.