NEWS
What's Enrique Iglesias' Secret Hidden Talent? (It Involves a Sexual Position, Obvs)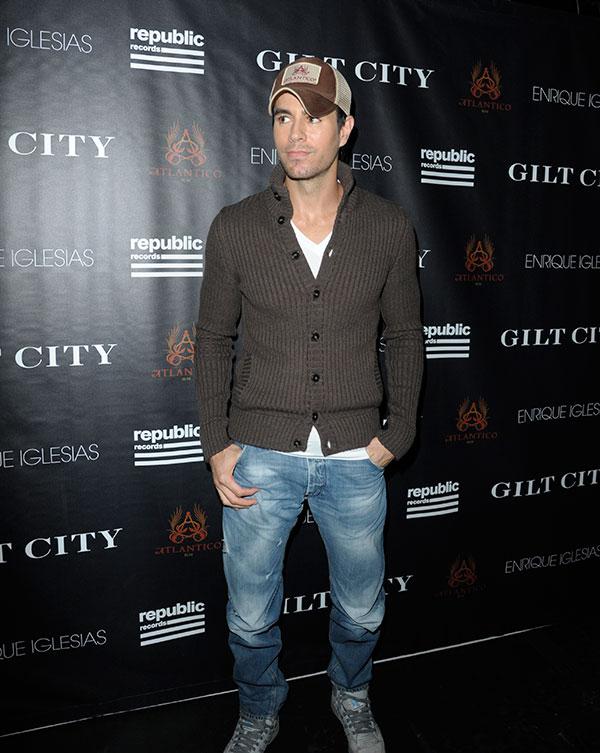 Gilt City held a members-only event with Latin Pop superstar Enrique Iglesias at Tenjune in NYC the other night and our friends at GC were nice enough to share some of the highlights from his intimate, slash animated, Q&A–it's a good one ladies...
Do you have a hidden talent?
Guest: (yells) 69!
Enrique Iglesias: "Im good at 69. I started very young, that was one of my first positions."
Finish the sentence: I can't go to bed unless I…
Article continues below advertisement
EI: "Unless I pee at least 5 times because I hate waking up in the middle of the night and having to go pee."
Who Did Harry Styles Just Jet to London to See?
First thing on your mind when you wake up?
EI: "It depends, I'm not a good morning person, but if I've slept well, would have to be (I don't want to call it work) but it really is music. And if I'm home, obviously my loved one and my dogs"
Do you have a celebrity crush?
EI: "Ummm, I have a lot of celebrity crushes but Diane Lane. I've always liked her."
What is your guilty pleasure:
EI: "My guilty pleasure is actually rum. I got involved 3 years ago with Atlantico rum and that in a way is my guilty pleasure because I shouldn't be drinking as much of it and at times I happen to eventually drink a little too much."
What is your best and worst personality trait?
EI: "My best personality trait that I think I'm very approachable and my worst is that I can be moody."
Article continues below advertisement
The Latest on Khloe and Lamar's Drama
What is your all time favorite movie?
EI: "That's a tough one since there are so many movies that I love, but I would have to go back to when I was a child, which are Raiders of the Lost Ark, ET, Goonies..."
Favorite Go-To Karaoke Song?
EI: "Probably 'It's Raining Men' - am I secure enough to pull that off?"
What are you looking forward to the most in 2014?
EI: "Umm 2014? I love what I do and I think I've appreciated it more throughout the years, but just to keep on traveling, keep on doing shows and hopefully making better albums. I don't know I can't tell you maybe in 2015 I'm gonna be like 'ya know what, I'm sick of this, um I think it's time to retire." Sometimes I think whoa do I see myself when I'm 60 or 50 or in my 40's singing "Tonight, I'm Banging You", or do I see myself singing "I Like It" do I see myself singing "Heart Attack." I honestly don't know, but now I do, so…."
Have you decided the name of the new album?
EI: "I have 3 names for the album, and I don't want to say the name just in case I get it wrong but it will be one of those 3 finals that I have in my head, but the album is finished so that's a cool thing."
10 Celebs That Got Naked in 2013
What makes the new album different from Euphoria?
EI: "Well every album is different. What I try to do is co-write with with other songwriters, especially songwriters that come from completely different musical backgrounds, and that helps me a lot. It's definitely more eclectic. Euphoria was pretty eclectic, but this is even more. There's a lot of features in it. I go from English to Spanish and I feel I have some cool songs. For some reason, in Spanish, it takes me a little longer at times."
Are you an Enrique fan? Are you pumped for his new album? Comment below or tweet us @OKMagazine and check out Giltcity.com for more awesome deals and access to celebrity events!