NEWS
Which Actress Cross-Dresses for Her Latest Film?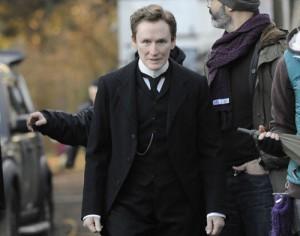 Cross-dressing for a role is not an easy task, but usually gets some big buzz for the actor or actress who takes on the feat. The actress pictured has been nominated five times for an Oscar and in her latest film plays a 19th century Englishwoman who dresses as a male butler. Do you recognize the leading lady?
The lovely and talented Glenn Close!
Glenn stars in The Singular Life of Albert Nobbs — a story, based on a novel by George Moore, of a 19th century Englishwoman who dresses as a male butler to make her way up the job ladder in a tough Irish economy.
Article continues below advertisement
"The definition of a truly independent film is that they almost don't get made... Ten years ago I was here hoping to make the film," Glenn said at a press conference, via the Huffington Post.
"I feel it is a really wonderful partnership and I'm very excited...Never in my wildest dreams did I think we would have this extraordinary group of talent both in front of and behind the camera."
Jonathan Rhys Meyers, Mia Wasikowska and Aaron Johnson — whom recently starred as a young John Lennon in Nowhere Boy — are slated to co-star with Glenn in the movie which began shooting on Dec. 10.
Could this be her Oscar ticket? It would be very well-deserved!