NEWS
Will Amy Adams & Henry Cavill Have Good Chemistry as Lois Lane & Clark Kent?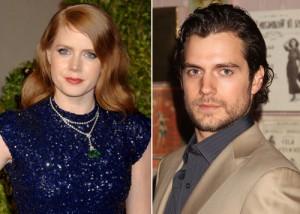 Clark Kent has found his Lois Lane. Zack Snyder, the director ofthe Superman reboot, announced that Amy Adams will star as Lois opposite British actor Henry Cavill who will play Superman/Clark Kent. So how do you think the duo's chemistry will fare on the big screen?
Amy certainly is a chameleon when it comes to her big screen roles, ranging from her Oscar-nominated performances in Doubt and The Fighter to more light-hearted roles in Enchanted, Julie and Julia and Leap Year.
Article continues below advertisement
OK! NEWS: AMY ADAMS LANDS LOIS LANE ROLE IN SUPERMAN REBOOT
"There was a big, giant search for Lois," Snyder told the Los Angeles Times. "For us it was a big thing and obviously a really important role. We did a lot of auditioning but we had this meeting with Amy Adams and after that I just felt she was perfect for it."
As for Henry, the hunky Brit recently finished filming Immortals opposite Kellan Lutz and had a recurring role in Showtime's hit The Tudors. He also starred opposite James Franco in the period piece Tristan and Isolde.
"In the pantheon of superheroes, Superman is the most recognized and revered character of all time, and I am honored to be a part of his return to the big screen. I also join Warner Bros., Legendary and the producers in saying how excited we are about the casting of Henry. He is the perfect choice to don the cape and S shield," Snyder said in a press release back in January when Henry was cast.
We want to know...
Catch the original on-screen dream team of Christopher Reeve and Margot Kidder as Clark Kent and Lois Lane.