NEWS
Wyclef Jean Still Seeking Candidacy for Haitian President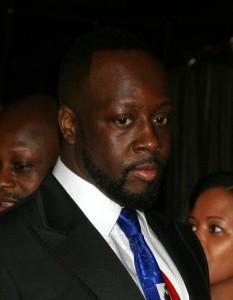 Although Wyclef Jean was deemed ineligible to run for the position of president in Haiti, the artist reveals that he is trying to contest the decision.
"After careful consideration and much soul-searching, I have made the decision to contest Haiti's board of election's pronouncement stating that I am ineligible to run for the presidency of the country. I will be seeking a solution through legal channels, and I urge my countrymen to be patient through this process," Wyclef wrote in an announcement on Sunday.
Article continues below advertisement
WYCLEF JEAN DRAFTED TO RUN FOR HAITIAN PRESIDENT
Wyclef only wants to be able to help the struggling country to the best of his abilities.
"I, along with my supporters, am deeply disappointed that I have been denied the chance to present my candidacy to Haiti's voters. I want to continue in my efforts to always keep Haiti top of mind for the world--I don't want to give anyone the chance to forget the earthquake victims, or my impoverished homeland, rich only in human potential and kindness."
SEAN PENN SLAMS WYCLEF JEAN FOR HAITI PRESIDENT
The singer says that he will not give up on the fight for Haiti.
"I cannot surrender now, simply because an obstacle has been set before me; now is the time I must stand up and show Haiti--and the world--that my vision of a nation renewed and redeveloped is a vision for which I am willing to fight."
Wyclef adds: "We in Haiti are united in our struggles, and we will be united in our victories and triumphs. Now is the struggle--let us peaceably bear it and look forward to the time when our efforts will pay off, for all my fellow Haitians. Thank you for your love, understanding and support."