NEWS
You Won't Believe How Sandra Bullock Celebrated Her Oscar Win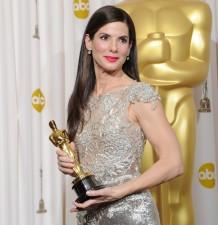 Still dazed from beating out Helen Mirren and Meryl Streep for the Best Actress Academy Award, Sandra Bullock announced last night how she wanted to celebrate her win — with a burger.
"I just want a burger and I just want some food," The Blind Side star told reporters backstage last night. "I want to sit down, take the shoes off. I want to eat and not sweat it and not worry the dress will bust open. I just want to relax and... I'd like a nap, too."
Article continues below advertisement
OK! HOT GALLERY: SIZZLING OSCAR COUPLES
As a stunned-looking Sandra was revealed as the Oscar-winner last night, her husband Jesse James whispered into her ear, but his wife isn't blabbing about his secret message: "I'd never divulge what Jesse says unless he divulges it first. It's between me and the man."
And although it looked a lot like the tough guy teared up during Sandra's speech, she joked: "He doesn't cry. No. He had something in his eye."
OK! NEWS: OSCARS 2010: A LOOK BACK AT HOLLYWOOD'S BIGGEST NIGHT
Sandra won her best actress award the night after clinching the Worst Actress honor at the Golden Raspberry Awards for her role in All About Steve with Bradley Cooper.
So, where will she put the awards? "They're going to sit side by side, as they should... we're in the entertainment business. That's what we're supposed to do. You know, you take the good with the not so good.
Article continues below advertisement
OK! NEWS: THE STARS LIGHT UP THE RED CARPET AT THE OSCARS 2010
"But I had the best time at the Razzies last night. It is what it is and, you know, it probably means more that both of them happened at the same time because it's the great equalizer.
"You know, nothing ever let's me get too full of myself. It quickly chops me off at the knees, and I like it that way because it just it keeps things stable and they'll sit side by side in a nice little shelf somewhere, the Razzie maybe on a different shelf, lower."
OK! NEWS; SANDRA BULLOCK WINS WORST ACTRESS AT THE RAZZIE AWARDS
Does the 45-year-old have any advice for aspiring actresses? "Well, don't aspire to be in these shoes," she said. "You know, walk in your own. I mean everyone's really good at telling everyone else how to live your life or how to be or how to do it.
"My mother beat it into our heads to be original, and I didn't understand that until later on and just everyone's unique and that's what makes people exciting to watch, I think, so just savour what you are and not what everyone else wants you to be."
Article continues below advertisement
"I looked fine but Ryan, who is my friend, is a freak of nature and it's disgusting the way he looks and all I see is him, naked. When I see him naked on the film. You know, but I think because no one expects Meryl to, you know, roll with the flow like that, I think no one realizes how much fun Meryl Streep is.
"I mean, she I'm not going to tell you half of what she'd do or what she's done. But she just is everything that Stanley Tucci said is right and then some. I don't think anyone expects her to do it. That's why it makes the headline.
Article continues below advertisement
OK! NEWS: OSCAR NOMINEES DISH ON THEIR FAVORITE FOODS
"She's an awesome broad, and I think she's an extraordinary actor but she's also a really free, fun human being, so I think it's because it was Meryl. I kissed Meryl. No one's ever taken the bull by the horns like that before, but I did."
Sandra also praised the other best actress nominees, Gabourey Sidibe, Carey Mulligan and Helen Mirren.
"I look at the company I keep in this category and you can't pick. There's not one that rises above the others, and I love these women that I got to spend this time with so much for who they are. So I feel like I share it equally in five parts because we ladies need to stick together."
So what about the story she mentioned onstage about George Clooney throwing her in the pool?
Article continues below advertisement
"See I could have taken that moment and gotten him back," she joked. "There was also Tom Cruise involved in that as well, and I told them one day, in a very public forum, I would get them back, but George looked so tired tonight.
"I saw his little eyes and said, 'I can't do it to him tonight'... You might want to ask George about that. See how much information he'll give because it was funny to everyone else but me. It was actually really funny, but not at the time. Ask George."
OK! NEWS: GEORGE CLOONEY'S EX-WIFE DOUBTS HE'LL REMARRY
What's next for America's favorite actress? "Just because I won an Oscar, I don't want to ever stop doing something that makes people laugh. I love making people laugh," says Sandra.
"I don't know what I'm going to do next. I sort of wanted this to sort of all die down, but I'm going make mistakes and I'm going to make everyone roll their eyes and I'm going to maybe do something that works, but I just want to keep working in every genre that I'm allowed to until I'm asked to not do it anymore."