NEWS
Young Hollywood Sends Birthday Wishes to R-Pattz at Nylon Party!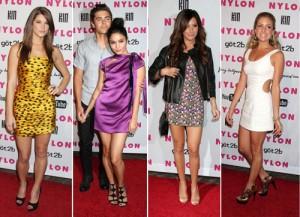 Tinseltown's hottest starlets were out in full force last night at Nylon magazine's Young Hollywood Party at the Roosevelt Hotel in L.A. Zac Efron and Vanessa Hudgens looked very close on the red carpet and were joined by fellow High School Musical pal Ashley Tisdale, Twilight beauty Ashley Greene, The Hills stars Kristin Cavallari and Stephanie Pratt and a bunch of other young H-wood hotties! The A-list crowd sent some birthday wishes to Robert Pattinson from the carpet!
Article continues below advertisement
Zac opened up to reporters about keeping his relationship with Vanessa real.
"We are real people," he said. "We came to Hollywood and we are having fun just trying to keep it real."
What's the most romantic thing he's done for his leading lady?
"I don't know," the 21-year-old actor said. "There's too many to count."
Vanessa is gearing up for a very busy summer and fall! She just finished up two films, Beastly (hitting theaters July 30) and Sucker Punch (December 2010).
In Sucker Punch Vanessa plays a mentally-ill girl who portrays a prostitute.
"I start off in a mental institute," she told Nylon magazine in this month's issue about the upcoming film. "And one of the girls gets signed up for a lobotomy. In order to cope with what she's going through, she images the entire place as a brothel."
Article continues below advertisement
"Every time she's forced to dance, she closes her eyes, and when she opens them, she's in an extreme situation — like one time, it's samurais coming after her. At one point, we all play hookers. And there are burlesque shows. I do a belly dance in the most amazing belly-dance costume you have ever seen in your life," she said.
The actress's new roles are a large departure from her days on the High School Musical set. This August, Vanessa will be taking on the role of Mimi in an L.A. production of the Broadway classic Rent directed by Neil Patrick Harris.