NEWS
Your Afternoon "Aww": Can You Guess Which Legendary Comedian This Pug Belongs To?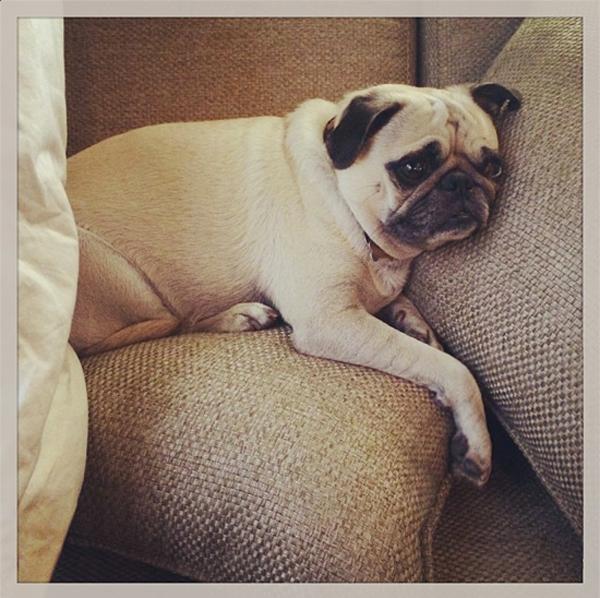 Today's celebrity pet is one lucky lad. How so? His owner is a legendary comedian and actor that instantly make viewers laugh until they cry! Plus, Leonard get's to hang out on the set of his dad's new CBS show—jealous! When asked about his pup in 2011, our favorite funny guy told reporters, "I also have a gay rescue pug called Leonard, who I take for walks, because I am very secure in my sexuality. He has a boyfriend and they are planning to adopt a Siamese kitten together. We're very modern." Get the scoop on Leonard's A-list owner in today's Afternoon "Aww." Don't forget to check out our five hints below for help!
Article continues below advertisement
1. Named two of his children after video game characters.
2. Befriended Christopher Reeve while attending Juilliard.
3. Is an avid cyclist who owns more than 50 bikes!
4. Became a household name after his big break in Mork & Mindy.
5. Voiced the iconic "Genie" role in Disney's Aladdin.
And the answer is...scroll down to the bottom of the page for the reveal!
Which star are we talking about? The hilarious Robin Williams! Thanks for playing and come back Monday through Friday for new installments of Afternoon "Aww."
Photos: See Yesterday's Afternoon "Aww" of Danielle and Kevin Jonas' Dogs
Are you a fan of Robin Williams' new show? Let us know in the comment section below and at @OKMagazine.