NEWS
Zac Efron on 'The Lorax' Co-Star Taylor Swift: 'I Just Really Like Her a Lot'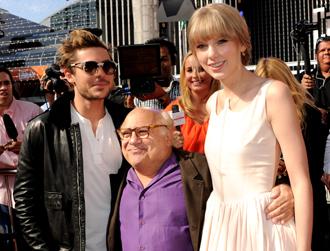 Dr. Seuss' classic story The Lorax was No. 1 at the box office this weekend, and a big reason was its star power!
At the NEA's 15th annual Read Across America Day in NYC, Zac Efron told reporters why he thinks everyone will love it. "I thought the animation was outstanding. I think it's got the Dr. Seuss sort of creepy kind, of whimsical thing going on about it. It kind of transports you. Kids are really going to love it."
Article continues below advertisement
He also spoke very highly of his co-star Taylor Swift. "She's so sweet," he said. "Everything comes across in her music: her warmth, her personality, her charm. It's just who she is. She's such an angel. I just really like her a lot."
OK! NEWS: ZAC EFRON ADMITTED HE DROPPED A CONDOM AT THE PREMIERE OF THE LORAX
Zac also told OK! about Taylor teaching him to play guitar. "That first day, we were all running around doing interviews but I caught her for five minutes and just said my New Year's resolution is to learn how to play guitar. She was like, 'I can play guitar.'"
OK! NEWS: TAYLOR SWIFT & ZAC EFRON PLAY A FOSTER THE PEOPLE GUITAR DUET FOR ELLEN DEGENERES
"She was willing to teach me," he added.
But co-star Danny DeVito wasn't letting Zac off the hook, joking, "You've got to remember that line, everybody. All these guys, they see a really beautiful, talented girl, see she's knitting. 'Ahh, I'd really, really in my life wanted to learn how to knit!'
"I'm learning from this guy Zac," Danny continued. "I'm learning from young people!"