NEWS
Zsa Zsa Gabor Hospitalized After Elizabeth Taylor's Death; Said "I'm Next"?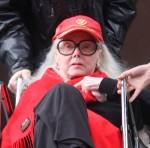 According to new reports, Elizabeth Taylor's death troubled actress Zsa Zsa Gabor so much that she was hospitalized with high blood pressure.
OK! NEWS: ZSA ZSA GABOR SCHEDULED FOR LEG AMPUTATION
According to PopEater, Zsa Zsa's publicist, John Blanchette, said Zsa Zsa's reaction to Elizbeth's passing was "Oh, Jane Russell and Liz Taylor — I'm next."
Zsa Zsa reportedly said that because there is a superstition that celebrities always die in threes, but Blanchette said, "She's not going to be the third."
Article continues below advertisement
The 94-year-old star has been struggling with health problems over the past few years and recently had part of her right leg amputated due to an infected bone.
OK! NEWS: ELIZABETH TAYLOR'S FUNERAL LIKELY TO BE IN L.A.; WESTBORO BAPTIST CHURCH TO PROTEST
One thing Zsa Zsa had in common with Elizabeth besides her work in films was her numerous marriages.
Zsa Zsa was married to Conrad Hilton at one time and admitted to having an affair with her stepson Nicky Hilton, who later married Elizabeth!