NEWS
Alicia Keys Launches 21-Day Meditation Experience With Deepak Chopra To Help Us 'Climb Out Of The Pandemic'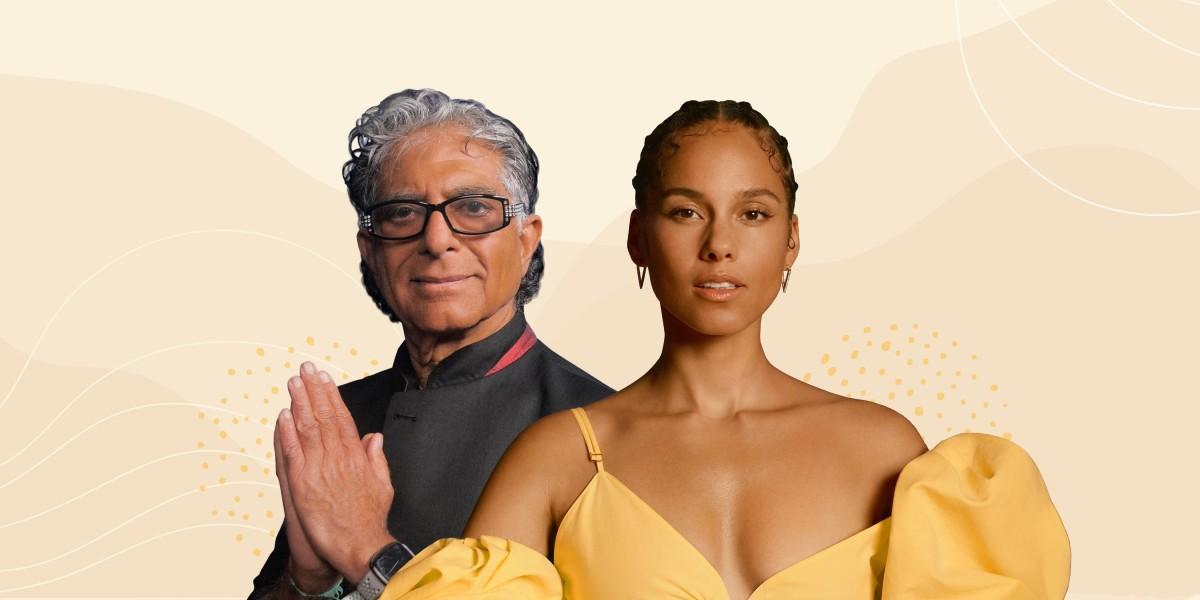 Singer, songwriter, producer, author, activist, entrepreneur and now, wellness guru.
Article continues below advertisement
The special audio experience "serves as a reawakening of feminine power, bringing focus to the energies of the Divine Feminine to restore wholeness and create more joyful and fulfilling lives."
Article continues below advertisement
The 21-Day program takes participants on a journey to discover the power of living in communion with the Divine Feminine while exploring love, compassion, empathy, and inner peace. Each 20-minute daily meditation opens with guided wisdom and storytelling from Keys, followed by a lesson and a meditation session from Dr. Chopra.
Article continues below advertisement
"I believe the Divine Feminine is an extremely powerful force within all of us," says Keys. "It helps you grow, it helps you create, it cultivates who you are. There's a major imbalance in our world, and we can all feel it. To counteract it, we have to open the door to the Divine Feminine in us and its ability to repair and create."
Article continues below advertisement
"It's been an adventure to travel on this journey of self-exploration with my brother Deepak Chopra. He believes in wellbeing for everyone, as do I, and knows we could all use some extra healing vibes in this moment," she continued. "That's one of the reasons we and the team at Chopra Global put together a 21-day exploration of the Divine Feminine. As we climb out of the pandemic, we can use self-care and self-love to balance out the loss and brokenness around us. I hope this experience will help us be our best, brightest selves, live healthier and more joyful lives, and find a piece of peace in a broken world."
Article continues below advertisement
"The Divine Feminine is often overlooked or silenced by structures that promote an imbalance of masculine energy," says Chopra. "Love, compassion, and receptivity exist at the source of the Divine Feminine and when we allow these energies to emerge in our lives, we create space for nurturing and healing both personally and collectively. I am forever grateful to Alicia for this partnership, she is an incarnation of the Divine Feminine and her words will help bring people together and provide peace and solace that the world needs."
Article continues below advertisement
The 21-Day Meditation Experience franchise first launched in 2013 with Dr. Chopra and Oprah Winfrey and has since become a global phenomenon, with millions of participants and meditation groups around the world. The catalogue currently features 19 different programs, including Renew Yourself: Body, Mind & Spirit, a bilingual program launched in 2020 with Latin Grammy Award winning artist J Balvin.
Article continues below advertisement
In celebration of this new program, Keys Soulcare, a lifestyle beauty brand born from Keys' personal skincare journey, will offer a special self-care package that will help develop a daily meditation ritual. The new ritual includes offerings to integrate into, and enhance the meditation experience including the Sage + Oat Milk Candle, Reviving Aura Mist and Comforting Balm, and is currently available at KeysSoulCare.com.
Keys Soulcare will also enlist Lightworkers to participate in the program and share their experience through a series of first-person content across the Chopra and Keys Soulcare social channels.
Registration is now open at choprameditation.com, and participants can now access the experience by downloading The Chopra App on iOS and Android.