NEWS
Chrissy Teigen Is Royally Mad! Model Defends Meghan Markle Amid Allegations Of Bullying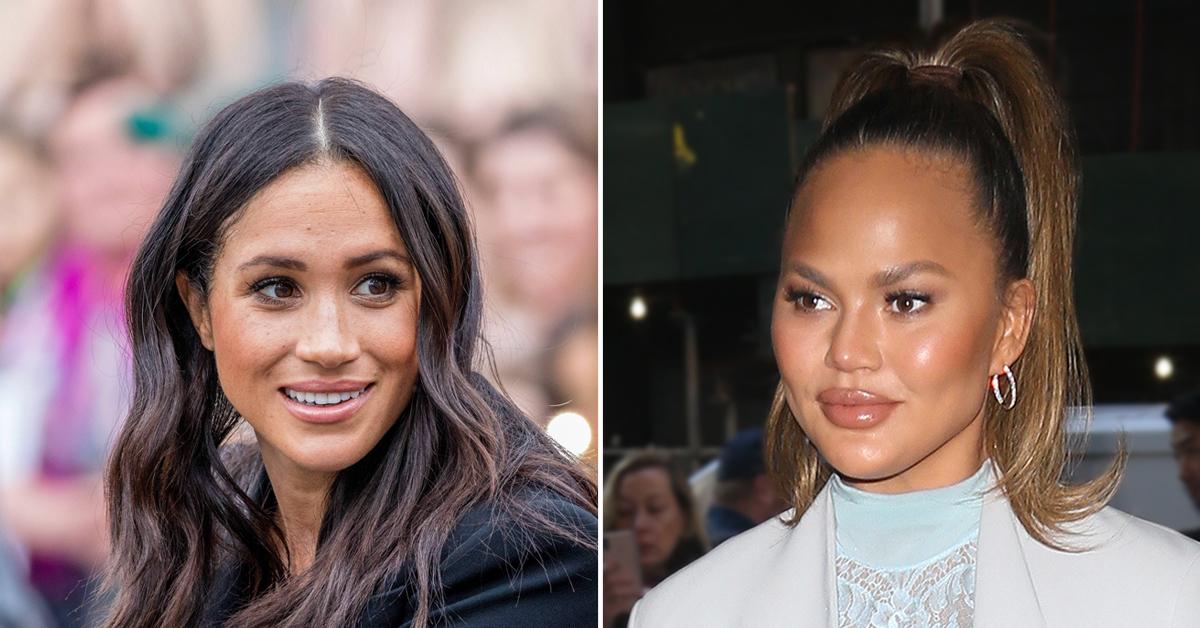 Chrissy Teigen is royally angry. Just days before Meghan Markle and Prince Harry's tell-all interview with Oprah Winfrey is set to air on CBS, Teigen spoke out in defense of the Duchess of Sussex, who was accused of bullying palace staff members when she worked as a member of the royal family.
On Friday Teigen, 35, tweeted, "this Meghan markle s**t is hitting too close to home for me. these people won't stop until she miscarries. f****** stop it."
Article continues below advertisement
The model's tweet references her own miscarriage with what would have been her third child with singer John Legend. She posted about her experience in September 2020.
"On this darkest of days, we will grieve, we will cry our eyes out. But we will hug and love each other harder and get through it," she wrote on Twitter.
Markle, 39, who is now expecting her second child, wrote about her July 2020 miscarriage in great length in an op-ed in The New York Times, published in November 2020.
According to The Times of London, in 2018 senior palace staff members reported they were bullied by Markle, occasionally reducing them to tears. It goes on to report that "one aide, anticipating a confrontation with Meghan, told a colleague: 'I can't stop shaking.'" One such report was given by the couple's former communications secretary, Jason Knauf. As OK! previously noted, Knauf had claimed Markle "drove two personal assistants out of the household and was undermining the confidence of a third staff member."
5 BOMBSHELLS TO EXPECT FROM MEGHAN MARKLE AND PRINCE HARRY'S TELL-ALL INTERVIEW WITH OPRAH WINFREY - IT WILL 'ROCK THE ESTABLISHMENT'
Article continues below advertisement
Knauf reportedly sent an email to Simon Case, the Duke of Cambridge's private secretary (who is now the cabinet secretary), after conversations with Samantha Carruthers, the head of Human Resources.
According the Daily Mail, the email stated: "I am very concerned the duchess was able to bully two PAs out of the household in the past year. The treatment of X was totally unacceptable. The duchess seems intent on always having someone in her sights. She is bullying Y and seeking to undermine her confidence. We have had report after report from people who have witnessed unacceptable behavior towards Y."
Teigen is not the only celebrity to come to the Duchess' defense. Patrick J. Adams, her costar on the USA law drama Suits, supported Markle via Twitter.
"Meghan Markle and I spent the better part of a decade working together on Suits. From day one she was an enthusiastic, kind, cooperative, giving, joyful and supportive member of our television family," said the actor. "She remained that person and colleague as fame, prestige and power accrued."
A spokesperson for Markle said that she is "saddened by the latest attack on her character," while other representatives called the accusations "a calculated smear campaign based on misleading and harmful misinformation," and said the timing of the report, only days away from her and Prince Harry's Oprah interview, is circumspect.
MEGHAN MARKLE'S COLLEGE BFF DEFENDS DUCHESS AMID SHOCKING BULLYING ALLEGATIONS, PROCLAIMS GOODWILL 'RUNS IN HER BONES'
On Wednesday, Buckingham Palace announced that they will be investigating the allegations made against Markle regarding her treatment of the staff.
Markle and Prince Harry's interview airs Sunday on CBS.