Courtney Love Accuses Olivia Rodrigo Of 'Stealing' Hole Album Cover Concept
It's brutal out here! Courtney Love called out Olivia Rodrigo for sharing promotional images that resemble her band Hole's Live Through This album cover.
Article continues below advertisement
"Spot the difference! #twinning! @oliviarodrigo 😉👸👸," Love captioned a photo featuring the 18-year-old looking tearful while wearing a prom queen crown and holding a bouquet of flowers. Hole's 1994 album cover featured an image of model Leilani Bishop wearing a tiara and holding flowers with tears streaming down her face.
"love u and live through this sooooo much," Rodrigo commented.
Article continues below advertisement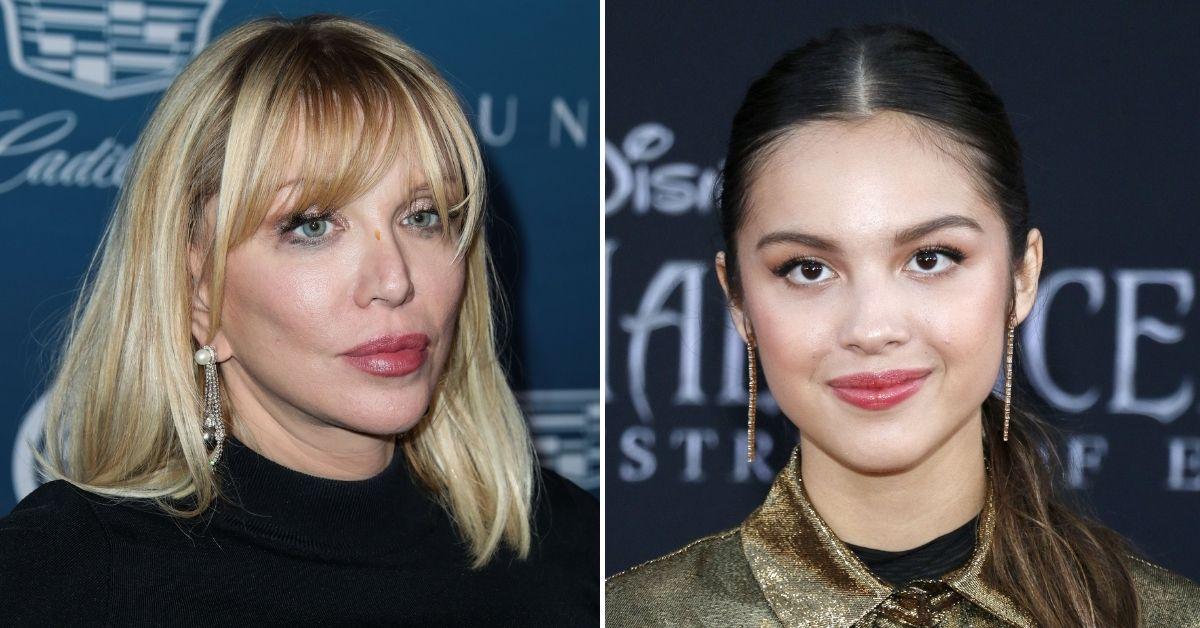 Article continues below advertisement
"Olivia — you're welcome. My favorite florist is in Notting Hill, London! Dm me for deets! I look forward to reading your note!" the 56-year-old responded.
Fans were divided on Love's take.
Article continues below advertisement
"imitation is the sincerest form of flattery — and yours was one of the most iconic album covers of all time! CL rules," one noted.
"Carrie did it for the boomers, Courtney did it for Gen X and millennials, and Olivia came through for Gen Z. Issa timeless look," another wrote.
Article continues below advertisement
"I thought about Hole the second I saw this picture in Olivia's instagram! Both icons ❤️🙌🏻," another commented.
Article continues below advertisement
The "good 4 u" singer previously shared the images to promote an upcoming concert film due to stream on June 29 on YouTube. "Since I never got to go to prom, I wanted to throw a little prom party with my fav ppl (you guys obvs)," she tweeted.
Love also took to Facebook to comment further on the controversy. "it was rude of her , and geffen [Records] not to ask myself or Ellen von unwerth [Live Through This photographer] . It's happened my whole career so I d c . But manners is manners !" she responded to one fan who agreed the album cover was a "total rip-off."
Article continues below advertisement
"Stealing an original idea and not asking permission is rude. There's no way to be elegant about it . I'm not angry . It happens all the time to me," the "Celebrity Skin" singer wrote to one follower who stated that it was "a silly thing to get mad about."
Article continues below advertisement
"But this was bad form," Love continued. "That's not bullying or bomb throwing . This persons music has nothing to do with my life . Possibly never will . It was rude And I gave every right to stick up for my work . Don't gatekeep me ! I'm honorable as f**k to my fellow artists , and I expect the same ."
"It's on GEFFEN," Love explained in another comment. "I've informed her I await her flowers snd [sic] note . I sure hope it's long . Does Disney teach kids reading and writing ? God knows. Let's see . Yes this is rude. Rage inducing ? Honey if I had a dollar for everyone this happens ? I'd be real rich !"