'I Will Do Better': Courtney Love Apologizes For Lashing Out At Dave Grohl & Trent Reznor
Courtney Love has issued a mea culpa after reigniting her feud with Dave Grohl — and accusing Trent Reznor of "systematic abuse" — in a rambling, since-deleted Instagram post.
Article continues below advertisement
"I need to apologize for my recent post. It was insensitive and it was wrong. No matter how I feel, there are real people behind my words and I need to learn to be more responsible with my words. I am truly sorry for those I've hurt," the 56-year-old wrote in a post shared on Instagram Story. "I will do better."
As OK! previously reported, the Hole singer took to social media on Sunday, June 13, to slam the Foo Fighters frontman, 52, and Nine Inch Nails rocker in a post that contained clips from the band's music videos that allegedly took shots at her likeness.
Article continues below advertisement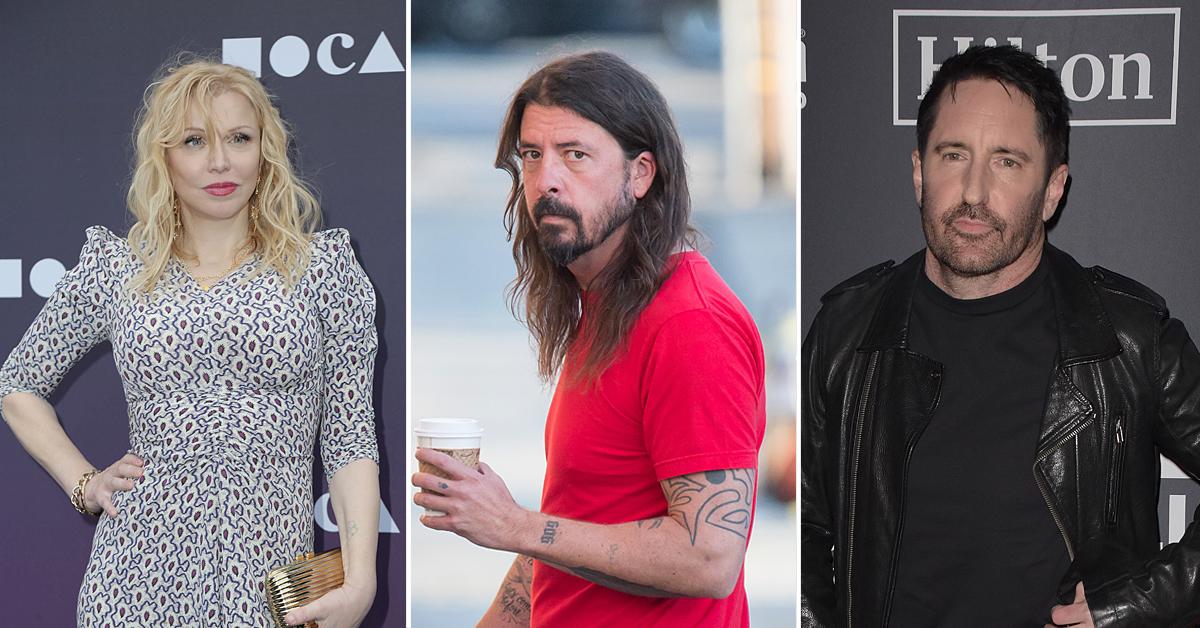 "Here's a few receipts from some mega aggressions I've had to deal with, make myself small for, stop righteous lawsuits over … due to male privilege in all its vile toxicity," Love wrote. "I've had enough of this [s**t] from these clowns leaning into my being scapegoated for breathing, for my husband's death, for my 'overt' sexuality, because I'm an addict, etc, and a WOMAN, for over 27 years." (Love was married to late Nirvana singer Kurt Cobain — with whom she shared Frances Bean, 28 — for two years before his 1994 death.)
Article continues below advertisement
The People vs. Larry Flynt actress had previously been locked in a long-standing legal battle with Grohl and Krist Novoselic — Nirvana's two surviving members — over the band's finances. It seemed as though the trio had made nice in 2014 when Love, Grohl and Novoselic took the stage together when Nirvana was inducted into the Rock & Roll Hall of Fame.
Article continues below advertisement
But the former Babes in Toyland singer seemed to take issue with a previous agreement she had agreed to that "effectively gives Dave (and Krist) my descendants money in perpetuity," though she remained vague on what the document in question specifically pertained to. "But it's a lie. So I'm unsigning it. Because it's nonsense. The chaos and fury over Kurt's death being directed at me, deflected by Dave, while he enriched and continues to enrich himself, gorging on Kurt's fortune and Kurt's goodwill.
"Nicest guy in Rock ? No," she added of Grohl.
Article continues below advertisement
Love then switched gears to slam Reznor, 56, whom she called "a creep," claiming, "I've never seen so much systemic abuse of kids, girls as young as 12, by him and his crew, we all (the members of Hole) witnessed it." However, she did not elaborate on the alleged incidents.
Both Grohl and Reznor have yet to address Love's claims.
Article continues below advertisement
This isn't the first time Love's words have come back to haunt her. In 2012, she accused Grohl of making sexual advances on her daughter, then 19 years old. "While I'm generally silent on the affairs of my biological mother, her recent tirade has taken a gross turn. I have never been approached by Dave Grohl in more than a platonic way. I'm in a monogamous relationship and very happy," Frances wrote in a subsequent statement. "Twitter should ban my mother."
In 2015, she was also ordered to pay fashion designer Dawn Simorangkir almost $400,000 in what was considered Twitter's first defamation settlement.