ENTERTAINMENT
From 'Friends: The Reunion' to 'A Quiet Place II,' 9 Must-See TV Shows & Movies To Watch This Memorial Day Weekend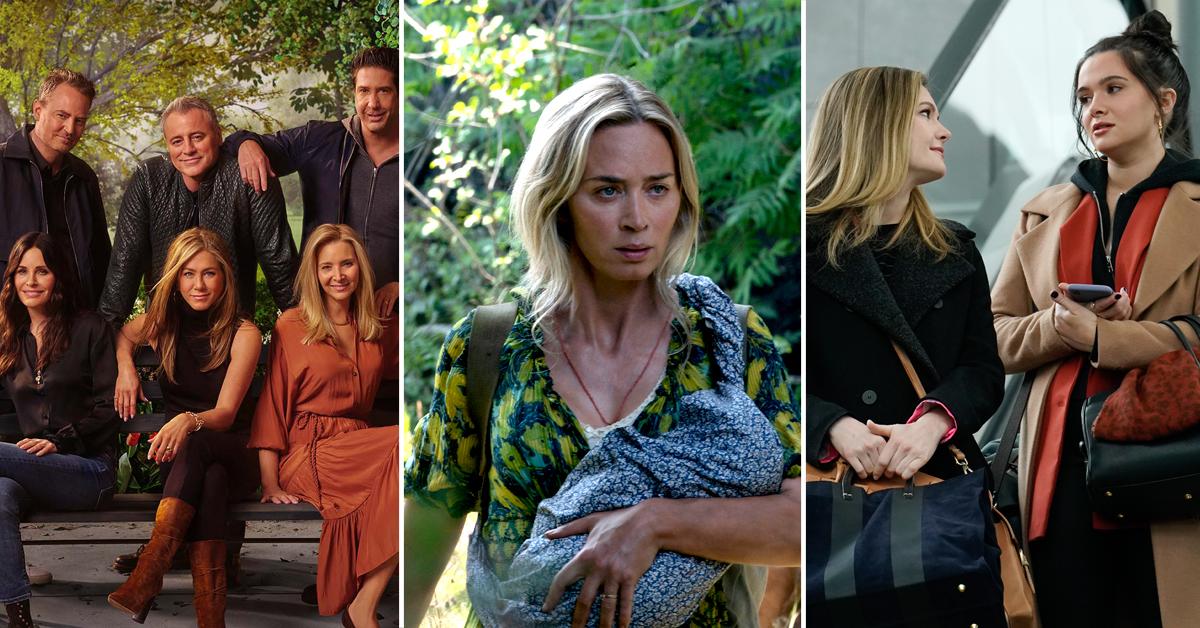 Sun is not fun for everyone. When sand, pools and barbecues get to be too much, there will plenty of fare to keep you entertained from a comfy couch in your pajamas while enveloped in air conditioning. And, if you are thinking about taking the plunge and heading back to a movie theater, some big feature films may sway your decision this Memorial Day weekend.
Article continues below advertisement
From must-see television to some of the most highly anticipated pics, OK! takes a look at what to watch this upcoming holiday. A three-day weekend means that it's the perfect time to binge watch, so pop the popcorn and pour your favorite cocktail for an ultra relaxing start to your summer.
TELEVISION: 'Solos'
If sci-fi is your jam, Amazon Prime is offering its answer to Black Mirror with Solos, a starry anthology featuring one actor per episode (look for Uzo Aduba, Morgan Freeman, Anne Hathaway and Helen Mirren, among others). An ambitious experiment that was clearly the product of the pandemic, Solos has the spectacle without the dialogue.
Article continues below advertisement
'The Bold Type'
The Bold Type is back this week with all of its endearing charm and unrealistic, candy-colored, heightened New York scenarios. But what's not to love? The fifth and, sadly, final season of the dramedy kicks off this week on Freeform and Hulu with in-depth stories about feminism, romantic chaos and friendship.
Article continues below advertisement
'Friends: The Reunion'
Article continues below advertisement
Article continues below advertisement
'Panic'
When small-town Texas teenagers need to find themselves something to keep busy after their high school graduation, they play a game filled with fear…and a huge a payout. Based on the YA thriller of the same name by Lauren Oliver, Amazon Prime's Panic follow a young girl as she competes with friends and neighbors in games of terrifying magnitude. Each player has their own dark secrets.
Article continues below advertisement
'Lucifer'
Lucifer returns for the second half of season 5 on Netflix, where it welcomes Dennis Haysbert as God. Lucifer has always been a helluva show due to intriguing mysteries and muted thrills. This season will continue to explore family dynamics.
Article continues below advertisement
MOVIES: 'A Quiet Place Part II'
In A Quiet Place II, the Abbott family (Emily Blunt, Millicent Simmonds, Noah Jupe) will continue to fight for survival in a world of silence. The original film was a monster hit (pun intended), and John Krasinski is at the helm of the Abbotts' venture outside. As in any horror adventure, the protagonists quickly realize that the dreaded creatures are not their only threats.
Article continues below advertisement
'Cruella'
See Cruella to hear Emma Stone's slippery, sexy delivery of her character's moniker; stay for the head-turning costumes that have permeated the trailers for the film. Set in 1970s London amidst the punk rock revolution, the film follows a young swindler named Estella, who is determined to make a career out of her artful designs. Cruella De Vil's origin story also stars Emma Thompson.
Article continues below advertisement
Article continues below advertisement
'Dry'
Eric Bana leads the emotional crime caper Dry, in which he plays a federal agent who returns home after an absence of more than 20 years. He attends the funeral of a childhood friend who allegedly killed his wife and child before taking his own life. Bana's agent stays to investigate the crime, and gets caught in more than he bargained for.
Article continues below advertisement
'American Traitor'
Due to its sweeping nature, American Traitor: The Trial of Axis Sally is a true story right at home on the big screen. The film follows the life of American Mildred Gillars (Meadow Williams) and her lawyer (Al Pacino) who works to help her redeem her reputation. Gillars earned the nickname "Axis Sally" for broadcasting Nazi propaganda to American Troops during World War II. She was eventually captured in Berlin and tried for treason.