How You Doin? Jennifer Aniston Spills She Would 'Proudly' Say She 'Banged' David Schwimmer If It 'Happened'
Article continues below advertisement
During an appearance on SiriusXM's The Howard Stern Show on Wednesday, June 23, the actress behind Rachel Green confirmed that she and her co-star Schwimmer, who played Ross, never acted on their feelings for one another.
When Howard Stern asked why the actress, 52, didn't "bang" Schwimmer, Aniston responded saying, "He was lovely, David was great."
Article continues below advertisement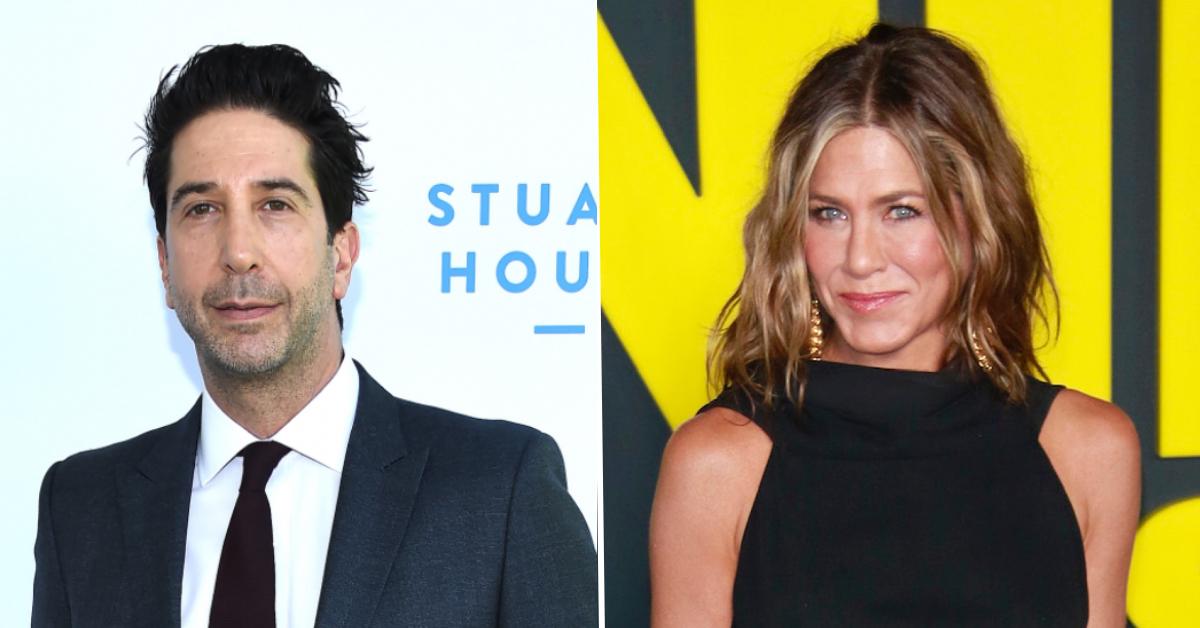 "We were in relationships, and it was always never the right time, and it wouldn't have worked," she continued. "The beauty of that was that whatever feelings we had we just literally channeled everything into Ross and Rachel, and I think that's maybe why it resonated the way it did."
Article continues below advertisement
"But no, we never, on my life [got together]," Aniston insisted while sitting alongside her Friends gal pals Courteney Cox and Lisa Kudrow.
Article continues below advertisement
"Courtney and Lisa would know if it did because they would've heard about it. They can vouch for me," she added while Cox agreed, noting that it was "true."
"Howard's not going to believe me," Aniston continued. "No, I would proudly say I banged Schwimmer if that happened. But no."
Article continues below advertisement
This isn't the first time fans got wind of a possible offscreen romance between Aniston, 52, and Schwimmer, 54.
Article continues below advertisement
Last month, the Friends: The Reunion special dropped on HBO Max, where the original cast (which also includes Matt LeBlanc and Matthew Perry) got back together to revisit the set, watch bloopers and share behind-the-scenes insight.
Article continues below advertisement
During the two-hour long special, the beloved cast was interviewed by host James Corden, who specifically asked if there were any romantic flings between any of the costars.
Aniston made viewers' jaws drop when she suggested that Schwimmer answer the question. He then admitted to having a "major crush" on Aniston back in the day.
Article continues below advertisement
"At some point, we were crushing hard on each other," Schwimmer revealed. "But it was like two ships passing, because one of us was always in a relationship, and we never crossed that boundary. We respected that."
Article continues below advertisement
The Just Go With It actress chimed in, "Honestly, I remember saying one time to David, it's going to be such a bummer if the first time you and I actually kiss is going to be on national television. Sure enough, first time we kissed was in that coffee shop."
Article continues below advertisement
Ross and Rachel were an iconic on-again, off-again couple throughout the show's ten seasons. By the end of the last season, the dynamic duo, who shared a child, Emma, seemingly got back together before the show capped off.
Offscreen, both Aniston and Schwimmer had busy dating lives. Schwimmer was married to Zoe Buckman, the mother of his daughter, Cleo, from 2010-2017. Aniston was married to Brad Pitt, who made a guest appearance on Friends, for five years, before tying the knot with Justin Theroux, whom she split from in 2018.