NEWS
Did Kellyanne Conway Leak Her Daughter's Topless Photo? 'Distraught' Claudia Quits Social Media, Says: 'If You See A Picture Of Me, Report It'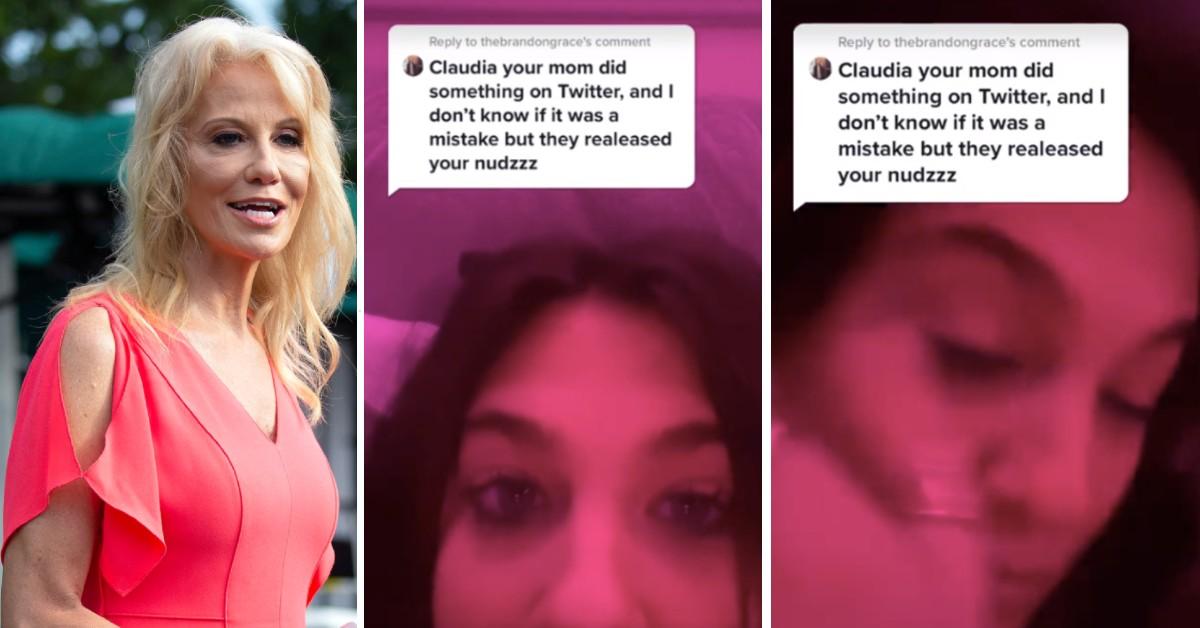 The drama continues between Claudia Conway and her mother, Kellyanne, after an alleged explicit image was said to be posted on Kellyanne's Fleets on social media app Twitter — similar to Instagram's Story feature — on Monday, January 25.
It wasn't until a fan notified the 16-year-old about the alleged racy photo that Claudia decided to take a look for herself. The video of Claudia's reaction on TikTok has since been made private.
Article continues below advertisement
"I don't know if this is a joke or not, but I'm like really scared. If this is a joke, please shut the f**k up. If it's not… bye," she first said after coming across a comment alerting her about the situation on TikTok in the since-deleted post.
In a follow-up video, she then confirmed to her 1.6 million followers that the image circulating online was, indeed, her topless photo, yet she couldn't comprehend how the pic got out since she said it had never been shared with anyone.
6 OF CLAUDIA CONWAY'S 'OMG' TIKTOKS: FROM TORMENTING HER MOTHER KELLYANNE CONWAY TO SPILLING THE FAMILY TEA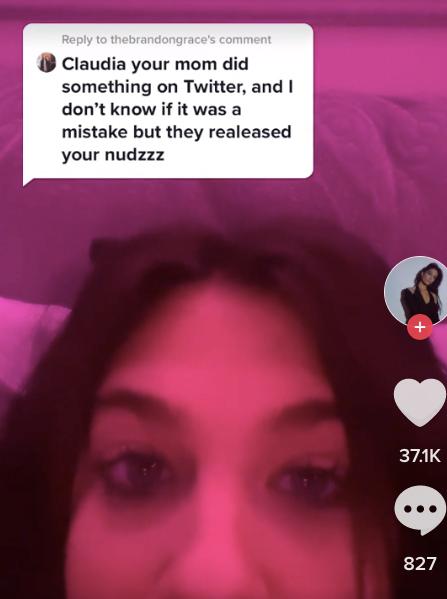 Article continues below advertisement
In the TikTok firestorm that followed, Claudia accused the former Trump counselor of most likely having gone through her phone during one of the many times she's confiscated the mobile device from her daughter.
Claudia also said, at first, she wasn't sure whether her mom shared the alleged topless photo on purpose or whether someone had hacked her social media account. Claudia said "nobody would ever have any photo like that," and seemed distressed and confused about how the situation had taken such a sharp turn.
"My mom deserves to go to jail," she said in a since-deleted TikTok. A representative for Twitter tells OK! that the incident is under investigation but would not elaborate on the matter. At the time of publication, police have yet to respond.
Article continues below advertisement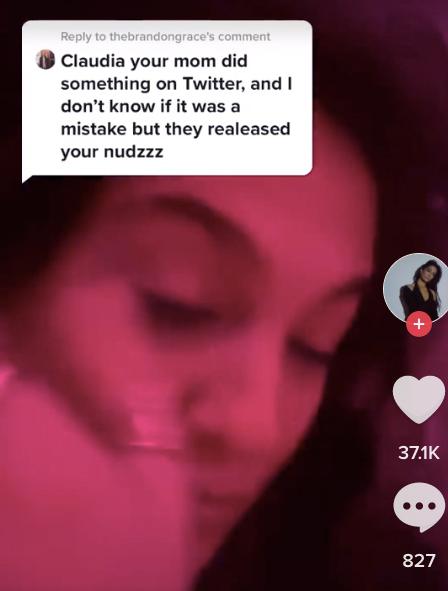 The teenager quickly backtracked in the morning of Tuesday, January 26. After setting the previous videos to private, she published four TikToks — said to be her last... at least temporarily — announcing that she was quitting social media and that there is no bad blood between her or her mother. They will be dealing with the matter "offline," she said.
INSIDE THE EXPLOSIVE WHITE HOUSE COVID-19 CRISIS — EVERYTHING WE KNOW
Article continues below advertisement
"I just wanted to come on here and address the situation," Claudia began in the four-part series. "This isn't forced, this is coming completely from me, Claudia. I have faith, and I know that my mother would never put something like that on the internet as well as me — we would never do that. My mom and I, we fight like mothers and daughters, but we also love like mothers and daughters, and I do love her. I will be taking a break from social media because we are really tired of being headlines.
"We fight like mothers and daughters, but being in the public eye exacerbates that greatly. And it adds a lot of stress to both of our lives, and I don't want that. I don't want any drama, I don't want any hate, so I will be leaving social media for a bit to work on my relationship with my mom and my family. Please do not incite hate or violence on my family. Please. No threats, no calls to authorities. I love my mom, and she loves me."
Article continues below advertisement
In the second video, Claudia stressed that the family would not be dealing with their personal matters on social media anymore and asked her followers to stop contributing to the ongoing drama. "Please put an end to all of this," she pleaded. "If you see a picture of me, report it. If you see anything of my mom and I, report it. Please do me a favor, and stop spreading this because it hurts me more than it helps me, same with my mom. It hurts both of us more than it helps us. Thank you all for understanding."
Article continues below advertisement
In her third post, Claudia said she was "distraught" when she learned her alleged private picture was circulating the internet and said she acted "impulsively."
"I acted very irrationally and impulsively, and it is something that I do regret," she confessed, stressing that this video admission is not at all "forced." "I know that my mom would never ever post anything to hurt me like that intentionally, and I do believe she was hacked. On another note, I want to apologize for making all of this public, and the best option right now, and the best path right now for the both of us, is to get off social media and to work on our relationship."
Article continues below advertisement
She concluded by asking her followers to "please stop calling authorities," she said, "because it only hurts us." She added, "I get that you're trying to help me but by putting my family in danger, you're putting me in danger, so please stop with that. We're going to handle this privately and I will never ever be speaking about this publicly."
Article continues below advertisement