Kevin Spacey Lands First Film Since Being Hit With Sexual Assault Allegations, Director 'Happy' Embattled Actor Signed On
Kevin Spacey landed his first job since sexual assault allegations were brought against the once-celebrated star.
Article continues below advertisement
The 61-year-old — who was first accused in 2017 of making sexual advances towards a minor — is set to make an appearance as a police detective in Franco Nero's Italian film, L'uomo Che Disegnò Dio, which translates to "The Man Who Drew God."
The director confirmed the actor's upcoming role and shared his excitement with landing the former House of Cards star. "I'm very happy Kevin agreed to participate in my film," Nero said, according to ABC News. "I consider him a great actor and I can't wait to start the movie."
Article continues below advertisement
The project will reportedly shoot in Italy, and the director's wife, Vanessa Redgrave, will also appear in the film.
Article continues below advertisement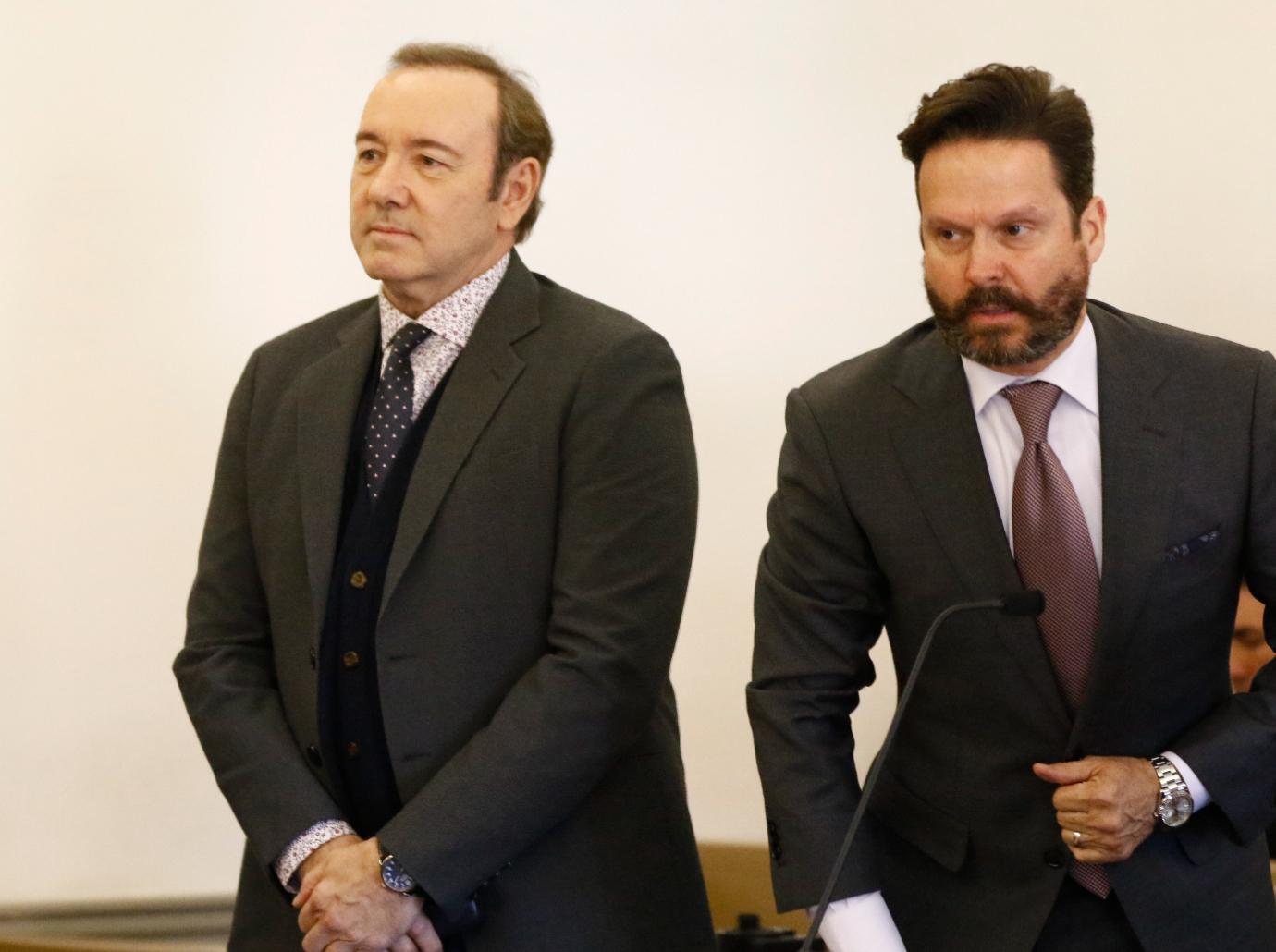 His latest role comes after Star Trek star Anthony Rapp, who is openly gay, came forward in October 2017, accusing Spacey of making inappropriate sexual advances towards him when he was only 14. Hours after BuzzFeed published the initial article with the actor's claims, Spacey apologized for his alleged actions and came out as gay — which was met with a ton of criticism from the LGBT community.
Article continues below advertisement
Rapp previously claimed the then-26-year-old invited him to his New York City apartment in 1986 for a party. According to Rapp, he was the only teenager at the party and spent most of his time watching television in a bedroom. Rapp then realized he was left alone in the room with Spacey.
"He was trying to seduce me," Rapp recalled of their alleged interaction. "I don't know if I would have used that language. But I was aware that he was trying to get with me sexually."
Article continues below advertisement
After Rapp's claims made headlines, Spacey issued a statement saying he didn't remember their encounter. However, he apologized for "what would have been deeply inappropriate drunken behavior" and announced: "I choose now to live as a gay man."
Amid the allegations, Spacey was removed from his starring role in Netflix's House of Cards.
Article continues below advertisement
Several other young actors came forward in 2017 with their own alleged stories after Rapp, 49, broke his silence. One year later, Spacey was charged with indecent assault in Massachusetts for an incident involving a young boy. However, the shamed actor pleaded not guilty, and the accuser dropped the civil lawsuit.
Article continues below advertisement
Almost two years after the initial claims were brought against Spacey, additional sexual assault allegations were made in a lawsuit by Rapp and another man, who identified himself as "C.D." in court documents.
In the civil complaint filed last September, C.D. accused Spacey of sexually assaulting him in the 1980s, when he was just 14. According to the suit, Spacey invited his acting student to his apartment and "engaged in sexual acts" with him on several different occasions. During their final time seeing each other, Spacey allegedly assaulted C.D., even though he made it clear he didn't want to be touched by Spacey.
Article continues below advertisement
In the Rent actor's initial complaint, his lawyer alleged that Spacey "intentionally and voluntarily and without plaintiff's consent engaged in an unwanted sexual advance with a 14 year old and grabbed then infant plaintiff, Anthony Rapp's, buttocks, lifted him onto a bed and laid on plaintiff's body."
Earlier this month, the federal judge ruled C.D. must identify himself in court in order to continue with the lawsuit, as it's difficult to build a defense against an unknown accuser. Since C.D. previously discussed the matter during an extensive November 2017 interview with Vulture, the Golden Globe Award winner's lawyer noted he is comfortable enough to talk about the alleged incidents to some degree.