NEWS
Mass Shooting At Colorado Grocery Store: 10 People Dead Including Police Officer, Suspect In Custody, Report Local Authorities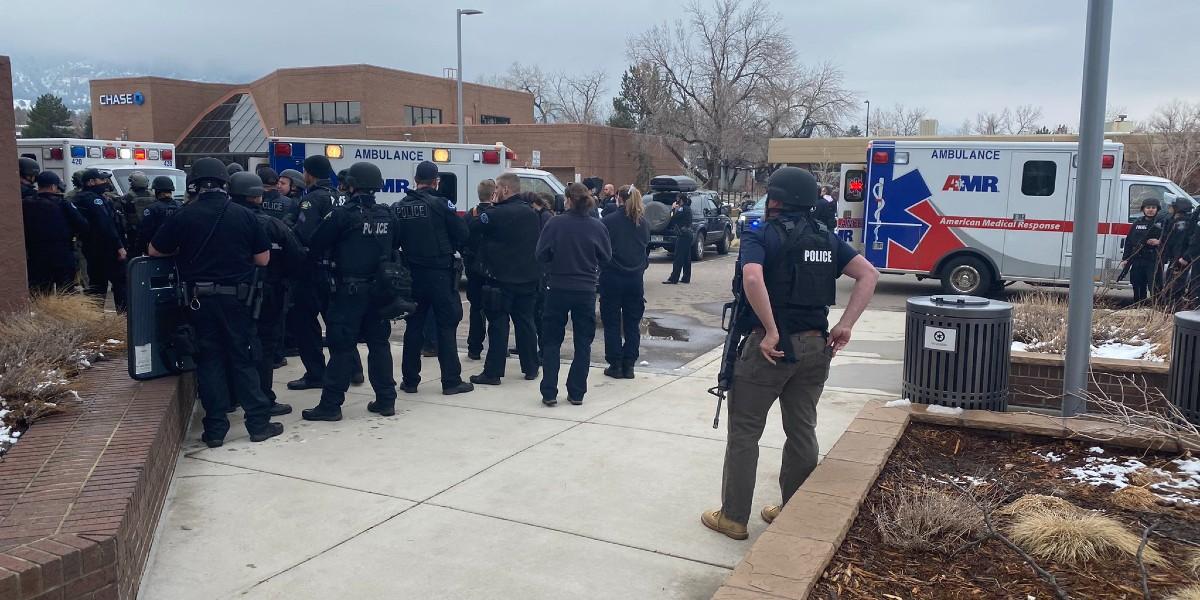 A gunman open fired at a grocery store in Boulder, Colo., on Monday, March 22, killing 10 people, including a police officer, according to local authorities.
Article continues below advertisement
The Boulder police said that they had taken an injured suspect into custody after the shooting. Videos showed a handcuffed man being escorted from the building by officers, shirtless and with his right leg appearing to be covered in blood.
People inside the grocery, King Soopers, described the terrifying and chaotic scene inside the store. "I thought I was going to die," said Alex Arellano, 35, who was working in the meat department inside the King Soopers store when he heard a series of gunshots, then saw people running toward an exit.
Article continues below advertisement
Boulder Police Chief Maris Herold identified the slain officer as Eric Talley, who joined the Boulder department in 2010. Herold called Talley a hero and said the 51-year-old was the first officer to arrive at the scene after calls of a "possible person with a patrol rifle." He was fatally shot by the gunman. The investigation is expected to last a minimum of five days, according to Herold.
Article continues below advertisement
"He was, by all accounts, one of the outstanding officers at the Boulder Police Department and his life was cut far too short," added the Boulder County district attorney, Michael Dougherty.
Article continues below advertisement
Dougherty also noted the rapid response by law enforcement, which arrived within minutes of 911 calls, just before 3 p.m. A swarm of Boulder police, SWAT and other local and federal law enforcement officers, including the FBI and ATF, swiftly contained the event at King Soopers grocery store.
Article continues below advertisement
King Soopers is located in the South Boulder area, a couple of miles south of the campus of the University of Colorado. The grocery store usually draws a mix of families and college students, according to police.
No other details about the suspect or the victims have been released. Herold said the department "will try to ID all of the victims as promptly as possible."
This story is developing...