Prince Charles May Not Pass Duke Of Edinburgh Title To Prince Edward When He Becomes King, Despite Prince Philip's Wishes
Although Prince Philip reportedly wanted his youngest son, Prince Edward, to one day inherit his Duke of Edinburgh title, Prince Charles might not let that happen in favor of downsizing the monarchy.
Article continues below advertisement
"The Prince is the Duke of Edinburgh as it stands, and it is up to him what happens to the title," a source said, per The Sun. "It will not go to Edward."
The Duke of Edinburgh title was passed onto Charles following Philip's death in April. In 1999, Buckingham Palace announced that Edward would succeed Philip in the dukedom "in due course" with the blessing of his parents. When Edward married Sophie Rhys-Jones, he was granted the earldom of Wessex by Queen Elizabeth II.
Article continues below advertisement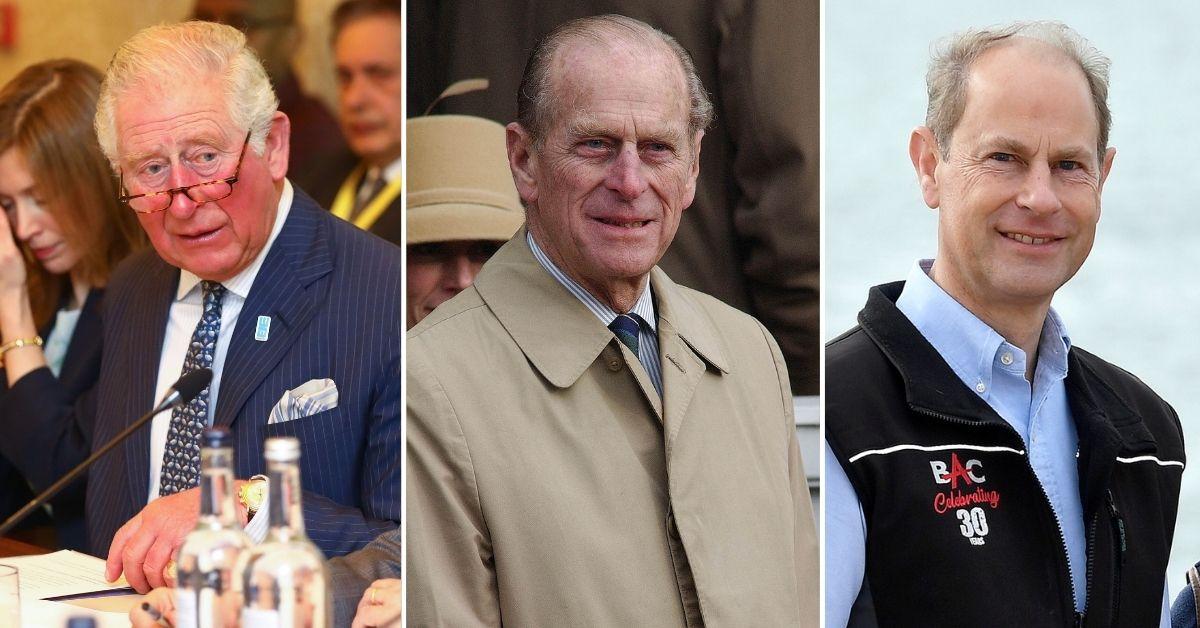 Article continues below advertisement
When Charles takes the throne, the Duke of Edinburgh title will merge with the crown and Charles will be able to grant his brother the title. However, it has long been reported that Charles plans to reduce the size of the monarchy.
A member of Charles' inner circle told the Daily Mail that he is "making it clear that his brother may have jumped the gun" and the title "is not a done deal."
Article continues below advertisement
"Put yourself in his shoes," an insider told the Mail of Philip's reasoning for wanting Edward to inherit the title. "You have been consort and then [Charles] comes along and is suddenly the heir.
Article continues below advertisement
Edward is said to be aware that the Duke of Edinburgh title is not in the bag.
Article continues below advertisement
"It was fine in theory, ages ago when it was sort of a pipe dream of my father's . . . and of course it will depend on whether or not the Prince of Wales, when he becomes king, whether he'll do that, so we'll wait and see," Edward told the BBC last month. "So yes, it will be quite a challenge taking that on."
The Earl of Wessex added that if he does get the title, it will be "bittersweet" because he can only get it "after both my parents have actually passed away."
Article continues below advertisement
This comes amid reports that Charles also will not be granting Prince Harry and Meghan Markle's children, Archie and Lilibet Diana, titles even though "a grandchild of the sovereign has long had the right to be a Prince," as previously reported by OK!.
Article continues below advertisement
"Harry and Meghan were told Archie would never be a Prince, even when Charles became King," a source told the Daily Mail.
The Sussex's children normally would have been granted titles by default when Charles takes the throne, but according to Mail sources, Charles has said he will "change key legal documents," which are suspected to be the 1917 Letters Patent. It has been speculated that when Charles is king, only heirs to the throne and their immediate families will be given full titles, financial support via the Sovereign Grant and protection by police, which are paid for by taxpayers.
However, a spokesperson for Charles tells PEOPLE, "All stories of this nature are speculation and no final decisions have been taken. It would be inappropriate and disrespectful to the Queen to comment on matters of accession and we will be maintaining our long-standing policy of not doing so." Buckingham Palace reportedly also declined to comment.