ROYALS
'Just Stay Out Of It': Prince Harry Slams Joe Rogan's Remarks About Young People Getting COVID-19 Vaccines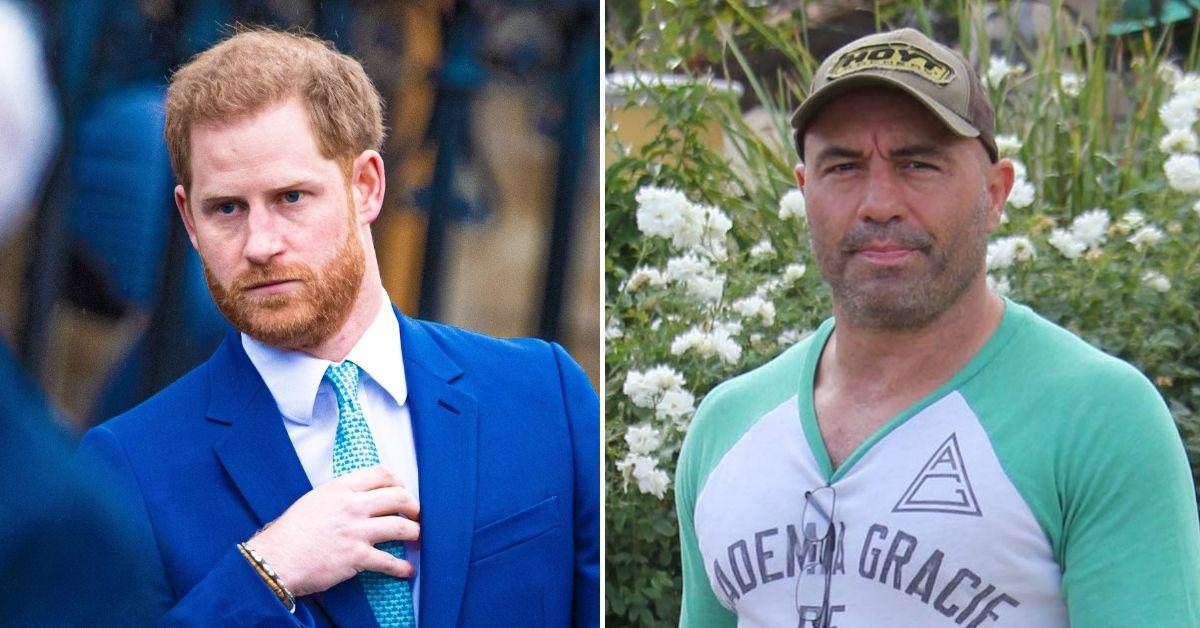 Prince Harry, who has been actively campaigning for people around the world to get a COVID-19 vaccine, slammed Joe Rogan's remarks about young people getting (or not getting) shots to stop the spread of coronavirus.
Article continues below advertisement
"If you're like 21 years old, and you say to me, 'Should I get vaccinated?,' I'll go, 'No.' If you're a healthy person, and you're exercising all the time, and you're young, and you're eating well, I don't think you need to worry about this," Rogan said last month, prompting quick backlash.
The Duke of Sussex was asked his opinion on the matter when he appeared on Dax Shepard and Monica Padman's "Armchair Expert" podcast on Thursday, May 13. "Just stay out of it," Harry said.
Article continues below advertisement
"The issue is in today's world with misinformation endemic," he explained. "You've got to be careful about what comes out of your mouth."
Article continues below advertisement
Given that Rogan has a production deal with Spotify, Harry warned that great "responsibility" comes with having such a big "platform." (Prince Harry and his wife, Meghan Markle, acted as campaign chairs for Global Citizen's VAX Live: The Concert to Reunite the World.)
"I'm not a doctor, I'm a f**king moron. I'm not a respected source of information, even for me … But I at least try to be honest about what I'm saying," Rogan clarified after the comment was heavily criticized.
Article continues below advertisement
"I said, 'I believe [the vaccines are] safe,' and I encouraged many people to take them … My parents were vaccinated. I just said, 'I don't think that if you're a young, healthy person, that you need it,''" the 53-year-old added.
Article continues below advertisement
On the "Armchair Expert" podcast, Harry also opened up about his relationship with father Prince Charles growing up.
"It's a lot of genetic pain and suffering that gets passed on anyway," Harry said on the podcast. "So we as parents should be doing the most we can to try and say, 'You know what? That happened to me, I'm going to make sure that doesn't happen to you.'"
Article continues below advertisement
In his experience, Harry explained that he was raised in a similar manner to how Charles was raised. "I never saw it, I never knew about it, and then suddenly I started to piece it together and go, 'OK, so this is where he went to school, this is what happened, I know this about his life, I also know that is connected to his parents [Queen Elizabeth II and Prince Philip] so that means he's treated me the way he was treated, so how can I change that for my own kids?'" he explained of his father.
Article continues below advertisement
Things changed, however, when Meghan came along. The former actress assured him that she "didn't need to be a princess" and encouraged him to get therapy.
"So living here now I can actually lift my head and I feel different," Harry said. "My shoulders have dropped, so have hers, you can walk around feeling a little bit more free, I can take Archie on the back of my bicycle, I would never have had the chance to do that."