COUPLES
Rachael Kirkconnell's Mother Weighs In On Controversial 'Bachelor' Contestant's Chances With Matt James, Ongoing Scandal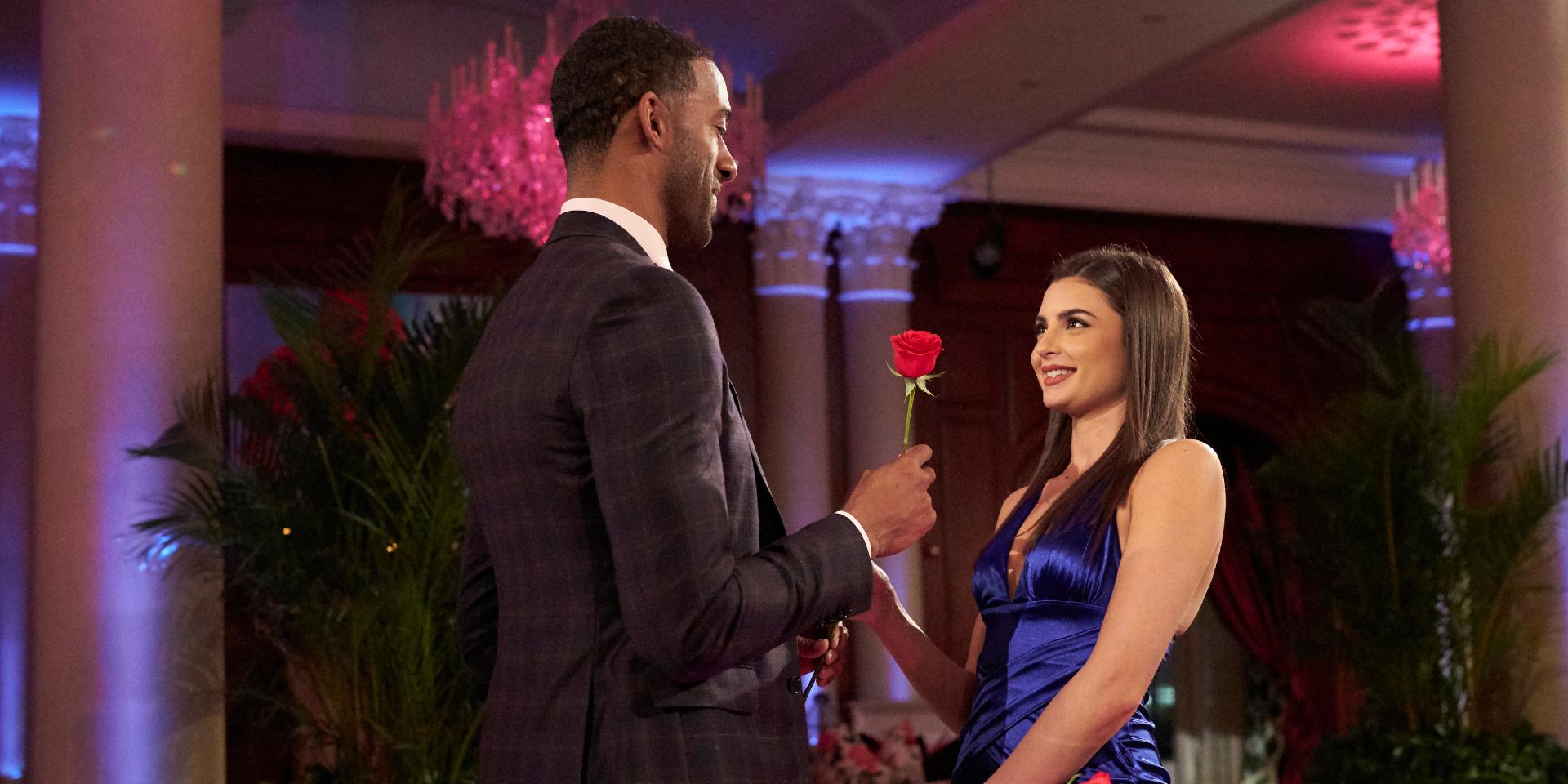 Whether or not he pops the question to Bachelor contestant Rachael Kirkconnell, Matt James' final decision on the currently airing season 25 is going to leave tongues wagging. Kirkconnell's mother, Kim Kirkconnell, spoke out about her daughter's relationship with Matt James and their potential future together amidst a mess of controversy.
"If he chooses Rachael, and stands by her, then you know Matt does truly love her," Kim recently told The Sun. "If he chooses Rachael, and then leaves her, then it was not meant to be, and there is someone else out there for her."
Article continues below advertisement
Rachael, 24, is among the top three remaining competitors for the franchise's first Black Bachelor, but her time on the show has been in the spotlight for reasons other than love. Kirkconnell first made headlines when a TikTok user accused her of exhibiting racist behavior in high school. The user posted screenshots of Instagram photos that Rachael was said to have "liked" featuring people smiling in front of Confederate flags. The Georgia native was once again thrust into headlines when alleged pictures of her posing in a Southern Belle dress on a plantation at a fraternity party in 2018 surfaced.
Kim went on to address how her daughter's actions may affect her chances of coming out on top on the reality show.
"We will never be able to understand how he feels about this situation as a Black man," she said. "We respect his stance on the situation. We have seen the devastation and heartbreak this has caused for Rachael. She wants to be able to prove to him that she has changed and work with him to fight against injustice. This isn't about winning a show. This was about finding love with Matt."
BACHELOR MATT JAMES 'REGRETS EVER DOING THE SHOW,' IS 'DISGUSTED' WITH RACIST DRAMA SURROUNDING THE PROBLEMATIC FRANCHISE
Article continues below advertisement
Kim continued to support her daughter in the wake of the unsettling history coming to light. She told The Sun that Rachael disassociated herself from Greek life once she learned about "problematic and racist behavior" in the community.
"She dropped out of her sorority that same year and was disaffiliated for the rest of her time in school because she did not share their views and beliefs and did not want to be a part of it anymore," she said. "The word 'antebellum' was never used to describe the event. The event made no references to the Civil War…no Confederate flags were present, and no Confederate outfits were worn. They did not party on a plantation in the dresses. They took some pictures, changed, and went to the beach."
'PLEASE STOP SAYING THAT I DID NOTHING WRONG': RACHAEL KIRKCONNELL PLEDGES TO DEDICATE PLATFORM TO SHARING ANTI-RACISM RESOURCES
Earlier this month, Bachelor host Chris Harrison defended Rachael in an interview with Rachel Lindsay on Extra. Kim expressed frustration at his response.
"It was disappointing for many reasons, but it was particularly frustrating because his stance is the exact opposite of how Rachael feels about the situation," she told The Sun.
Rachael posted a video and an apology on Instagram.
Article continues below advertisement
"…I didn't recognize how offensive and racist my actions were, but that doesn't excuse them. My age or when it happened does not excuse anything. They are not acceptable or okay in any sense. I was ignorant, but my ignorance was racist," she said. "I am sorry to the communities and individuals that my actions harmed and offended."
Rachael added, "I don't think one apology means that I deserve your forgiveness, but rather I hope I can earn your forgiveness through my future actions."