EXCLUSIVE
Major Score: Poshmark Board Member Serena Williams Is $18 Million Richer After Stock Soars During IPO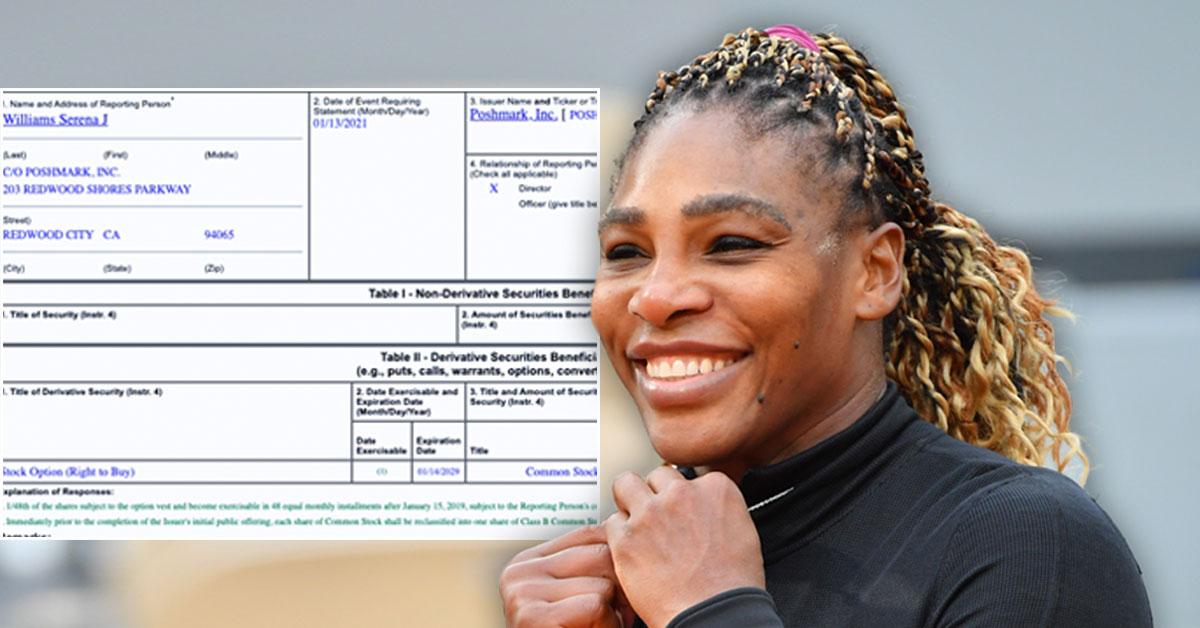 Serena Williams became a whole lot richer overnight, waking up in Australia on Friday morning to learn that her shares in Poshmark were valued at $18 million. That was thanks to the surging share price of the company's stock during its initial public offering on Thursday, January 14. Serena got her shares early too thanks to her position on the Board of Directors at Poshmark, which she has held since February 2019.
Article continues below advertisement
The Initial Statement of Beneficial Ownership of Securities that was filed by Poshmark with the U.S. Securities and Exchange Commission on behalf of Williams, 39, shows that she had the option to purchase up to 180,000 shares of common stock in the company. The filing, which was obtained by OK!, also shows that she would only have to pay $10.77 for each of those shares.
Poshmark was expected to do well on Thursday, but exceeded both predictions and expectations when it reached a high of just over $104 before dropping down just a bit to $101.50 at the closing bell. Poshmark had said in the past that the hope was to sell the shares somewhere between $36 and $39, so the fact that shares were priced at $42 for the online resale marketplace was already a win for the company.
WHAT IS CHARLIE SHEEN'S NET WORTH? FROM MEGA MILLIONAIRE TO TAKING CAMEO REQUESTS IN 2020
Article continues below advertisement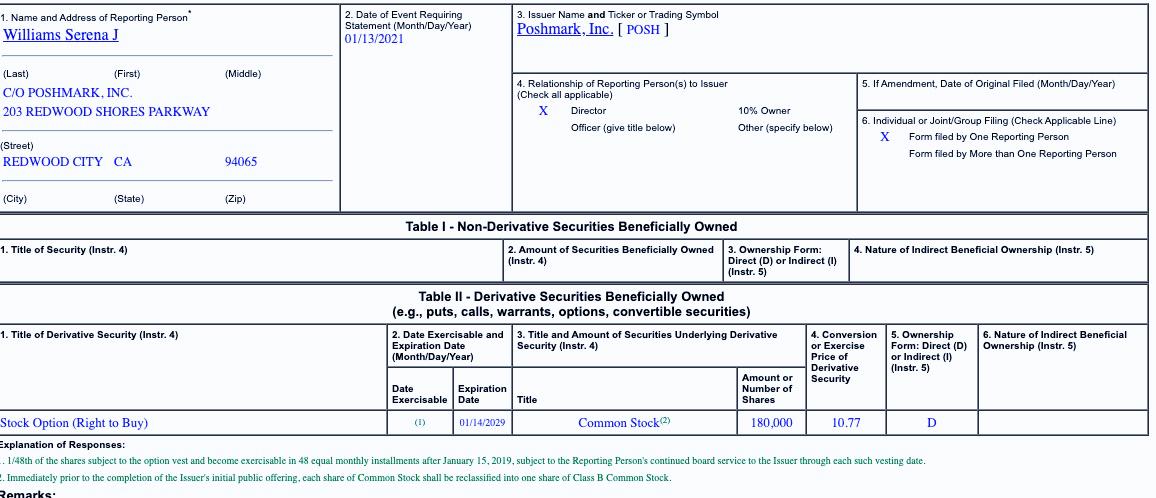 The news only got better from there, as the stock began the day trading at $97.50 — more than double the planned IPO. And Williams' gains were minor when compared to that of CEO Manish Chandra, whose stocks saw a more than $500 million increase in value. The company's valuation was out at $3 billion before trading had started on Thursday and, by the end of the day, had passed $7 billion.
Article continues below advertisement
Williams has used the resale site to offload her own designer duds. She then donates all the money she makes from those sales to the Yetunde Price Resource Center, the non-profit she and siblings Venus, Isha, and Lyndrea founded with their mother, Oracene, in honor of Serena's late sister. The organization offers trauma-informed programs that promote individual and community-wide healing and resiliency.
This all comes as Williams is preparing to carve her name into the history books once more by winning her 24th grand slam title at the Australian Open in two weeks. She was seen arriving in Australia on Thursday night with her husband and daughter Olympia, before getting some rest just before the markets opened and training through the rest of the trading day.
In the end, Serena paid just under $2 million for her stock that by the end of the day was valued at over $18 million. As is standard practice for Serena, she has yet to even acknowledge her big win and did not respond to requests for comment. But as the poet and cultural anthropologist once noted, Serena is smart enough to make those millions, strong enough to bear the children, then get back to business."