NEWS
The Ultimate Bucket List Experience: Helicopter Tours to Everest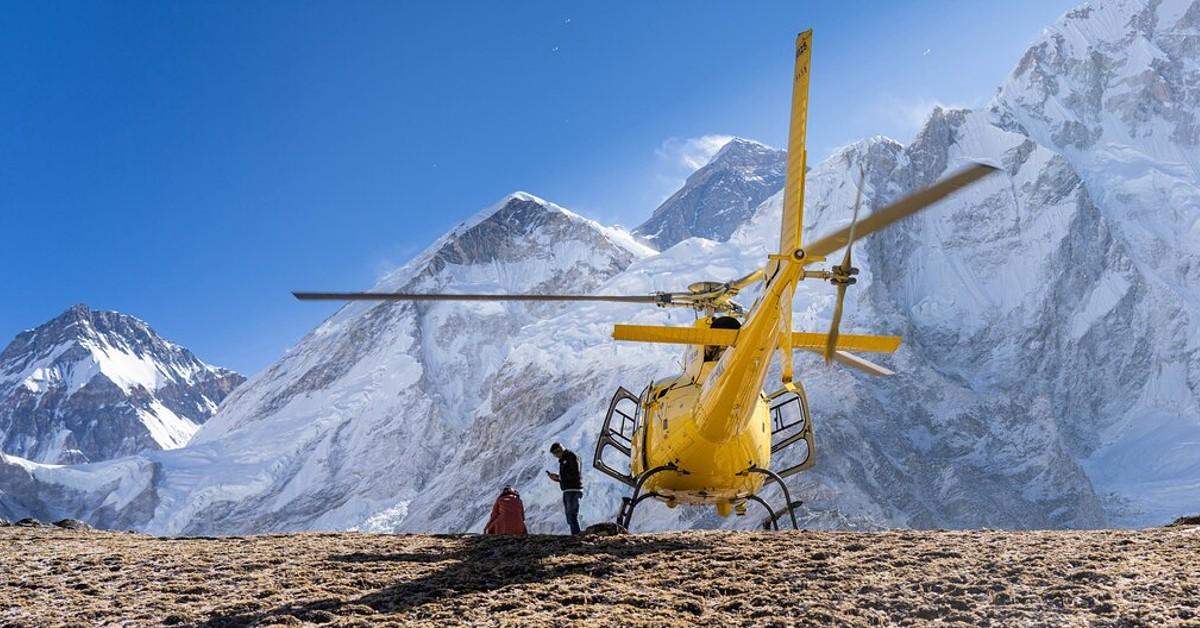 With so many mega anniversaries being celebrated in 2022 and 2023 we can add another to the list. On May 29, 1953, Edmund Hillary and Tenzing Norgay Sherpa set foot (or feet) on top of the world's highest mountain, Mount Everest.
While some of you may be up for such super-human feats, the rest of us are quite happy to take a more relaxing route into the mountains.
Article continues below advertisement
Touring Everest by Helicopter
This year saw Helicopter tour to the base camp of Everesttake hold of the imagination of the founders and owners of a Nepal trekking company, Magical Nepal. "We specialise in trekking tours but realise there are many clients who would love to visit Everest but either don't have much time or are physically unable to undertake a two week trek," Pradeep Guragain, Co-founder.
If you fall into either category, the 4 to 5 hour helicopter tour setting off from Kathmandu could be for you.With the Everest base Camp helicopter tour being open to everyone of all ages and abilities, we are reassured that since the tour is relatively short, there is little risk of complications associated with high altitude.Unfortunately we are also told that small children are not allowed on board as helicopters in Nepal are not kitted out seat-wise for small bodies.With a price tag of USD1,175 per person on a group helicopter would-be travellers can also enquire about the cost of reserving the whole helicopter for their own use.High altitude helicopters seat 5 or 6 people.
Should you be interested in short hikes to Everest Base Camp which include flying in by plane, and flying out by helicopter, Everest can be done in for 5, 6, 7, 8 or 9 days, as well as the classic trek in trek out 12 day trek.
Everest Base Camp Helicopter Tour Must Knows
There are three stops on this tour.The first being to refuel at the Hillary Tenzing Airport at Lukla. The other two stops, with the order depending on factors on the day, are just above Everest Base Camp and for breakfast, just above the market town of Namche Bazaar.
Landing at Kalapattar is as close to Mount Everest as the helicopter can get.With the precarious and shifting Khumbu Ice Falls on which base camp is situated, it is too risky to land there.Instead, the helicopter will circle giving those inside a birds-eye view of the camp below before heading to a high ridge where it is possible to land. Kalapattar does in fact give even better views of Everest than can be seen at base camp.The reason being base camp is too close to the mountain to give that spectacular view.Trekkers also climb Kalapattar for the views.Sitting at around 5,600 meters/18,373 feet, this is the perfect landing spot for this tour.If your interested in the names of mountains, you can count Nuptse, Changtse, Lhotse and Everest among those you will see in a great panorama from here.
Standing at this height you will understand why it is recommended you be kitted out for this trip with a good warm jacket, gloves, and a hat.At such a high altitude it is not possible for the helicopter to turn off its engine, nor is it possible for humans to remain here for a long period of time without acclimatizing.While trekkers will have been acclimatizing over the past 10 days, passengers on the helicopter will not have.It is for this reason the helicopter stops for only 10 or 15 minutes.But it is long enough to gather great photos and videos and take in the unforgettable views of the Himalayas.
The other landing is more relaxed but is equally as beautiful with more amazing views of Everest and its neighbours. In fact, Hotel Everest View was built specially to provide 360 degrees of outstanding views to visitors. On this tour helicopter passengers stop for breakfast. Who could miss a chance to drink steaming coffee while gazing at the world's highest mountain. Construction on this hotel started in the late 1960s, when neither the Japanese owner nor the Japanese architect could have imagined that one day clients would be dropping in by helicopter!
Article continues below advertisement
Unforgettable Tour to EBC
This unforgettable tour to Everest Base Camp by helicopter has to be one of the most exciting things out this year. The reviews so far have been all five star.Safety measures are built in, such as very experienced high altitude pilots and oxygen on board.And with that reasonable price tag it is an unbeatable experience.
—Written in partnership with Tedfuel