Tristan Thompson Emerged From A Bedroom With 3 Women Looking 'Disheveled' Days Before Khloé Kardashian Admitted She 'Wants More Kids' With Him: Report
Another day, another Tristan Thompson scandal. A new report claiming the Boston Celtics player was up to no good at a recent party comes on the heels of Khloé Kardashian revealing she "wants more kids" with the serial cheater.
Article continues below advertisement
According to DailyMail, the NBA player, 30, attended a birthday bash for security guard Nessel 'Chubbs' Beezer on Friday, June 18, where he reportedly made a beeline for the bar and did a round of tequila shots.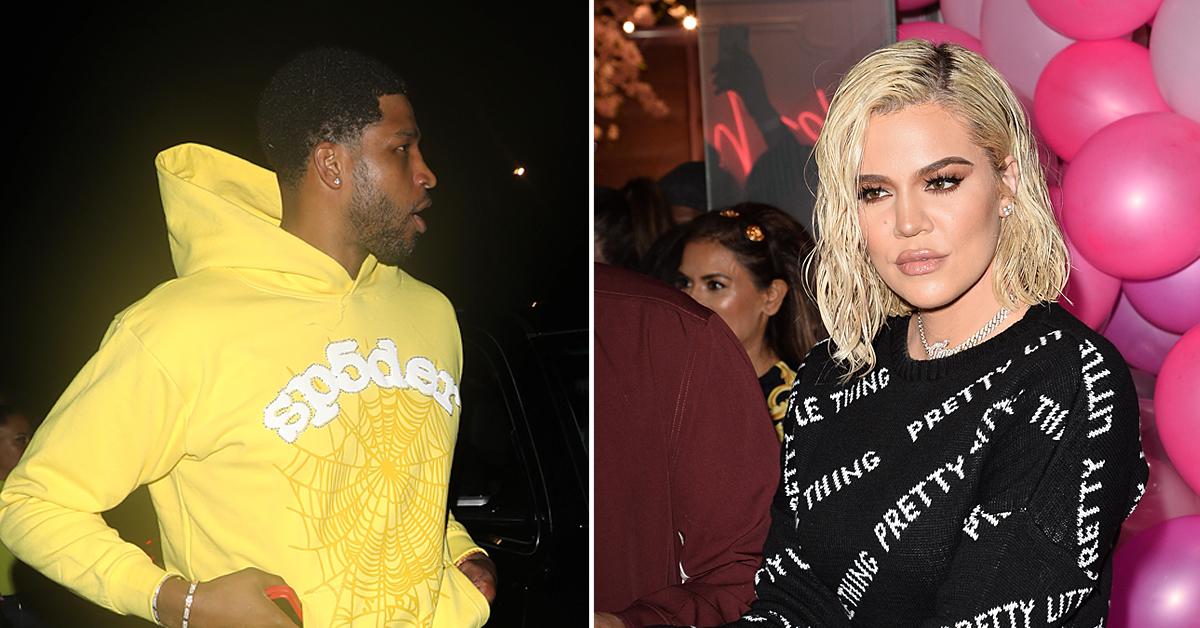 Article continues below advertisement
Later, "Tristan took off into one of the party rooms where everyone goes to hook up. He was with three women and another guy. One of the girls he was with is a regular partier - she['s] always out and about at parties," a source told the outlet on Monday, June 21. "They stayed in the room behind closed doors for at least 30 minutes. When he arrived, his shirt looked all pressed and when he came out his shirt was a mess, he looked disheveled."
The insider claimed one of the women who accompanied Thompson is an aspiring singer, while the other works in the beauty industry.
Article continues below advertisement
Thompson's night out occurred two days before the second part of the Keeping Up With the Kardashians reunion aired, in which Kardashian revealed she "wants more children" with the athlete despite his multiple cheating scandals. In fact, the Strong Looks Better Naked author revealed the two had come close to welcoming their second child via a surrogate.
Article continues below advertisement
The former Cleveland Cavaliers player made headlines in 2018, when news broke two days before the pair welcomed their daughter True that he had been unfaithful. Though the pair remained together at the time, Thompson found himself embroiled in yet another scandal in 2019 when it was revealed that he had cheated on Kardashian with Jordyn Woods.
During the reunion, the reality star addressed why she took him back despite his philandering pattern. "I know all the help that he's got and the constant efforts that he makes every single day and how hard he fought to get back with me currently," she told host Andy Cohen. "I mean you can ask everyone, it really wasn't an easy thing for him, but I don't know why someone would go through all of that if they weren't really serious."
Article continues below advertisement
Still, the TV personality made it clear she didn't have blinders on when it came to her relationship, noting she trusts Thompson "as a friend," but, "I just need to focus on today and go day by day. I can't worry too much about everything else."
Article continues below advertisement
It seems it was a wild weekend for Thompson: Tana Mongeau tweeted on Sunday, June 20, "all I know to tweet about my birthday party last night is that tristan thompson was one of the first attendees like babe where's true."
Article continues below advertisement
Kardashian apparently caught wind of the vlogger's social media post — and didn't hold back. After a fan commented on Mongeau's post, "shut the f**k up. this screams attention-seeking at it's finest bc you know damn well that man gon make headlines over anything pertaining to women. you're a bird! don't speak on True either weird ass h*e," the former Revenge Body With Khloe Kardashian star "liked" the scathing response.