Tristan Thompson's Paternity Accuser Claims She Has Receipts, Posts Birth Certificate Of Baller's Alleged Love Child
Not backing down. Despite receiving two cease-and-desist letters from lawyers representing Tristan Thompson and Khloé Kardashian, the NBA star's paternity accuser, Kimberly Alexander, is continuing to speak out on social media.
Article continues below advertisement
On Instagram, the self-proclaimed brand ambassador is claiming to her followers that false statements have been made, including that a lawyer tied to Thompson couldn't even get the correct age of her son right in legal documents. She most recently bashed the on-again-off-again couple's representation after they insisted her son was seven years old when she first accused Thompson last year of being her baby daddy. However, according to Alexander, her son is actually five years old — and she is alluding that this is not the only inaccurate detail in the ongoing legal drama.
"Since TT lawyers are soooo convinced when my son was born. Let's shut it down today with his BIRTH Certificate!!!" she wrote via her Instagram Story on Monday, June 7. "[Tristan] knows the date and is scared it will show he was a cheater once again!!!" (Alexander is alleging that Thompson cheated on ex-girlfriend Jordan Craig.)
Article continues below advertisement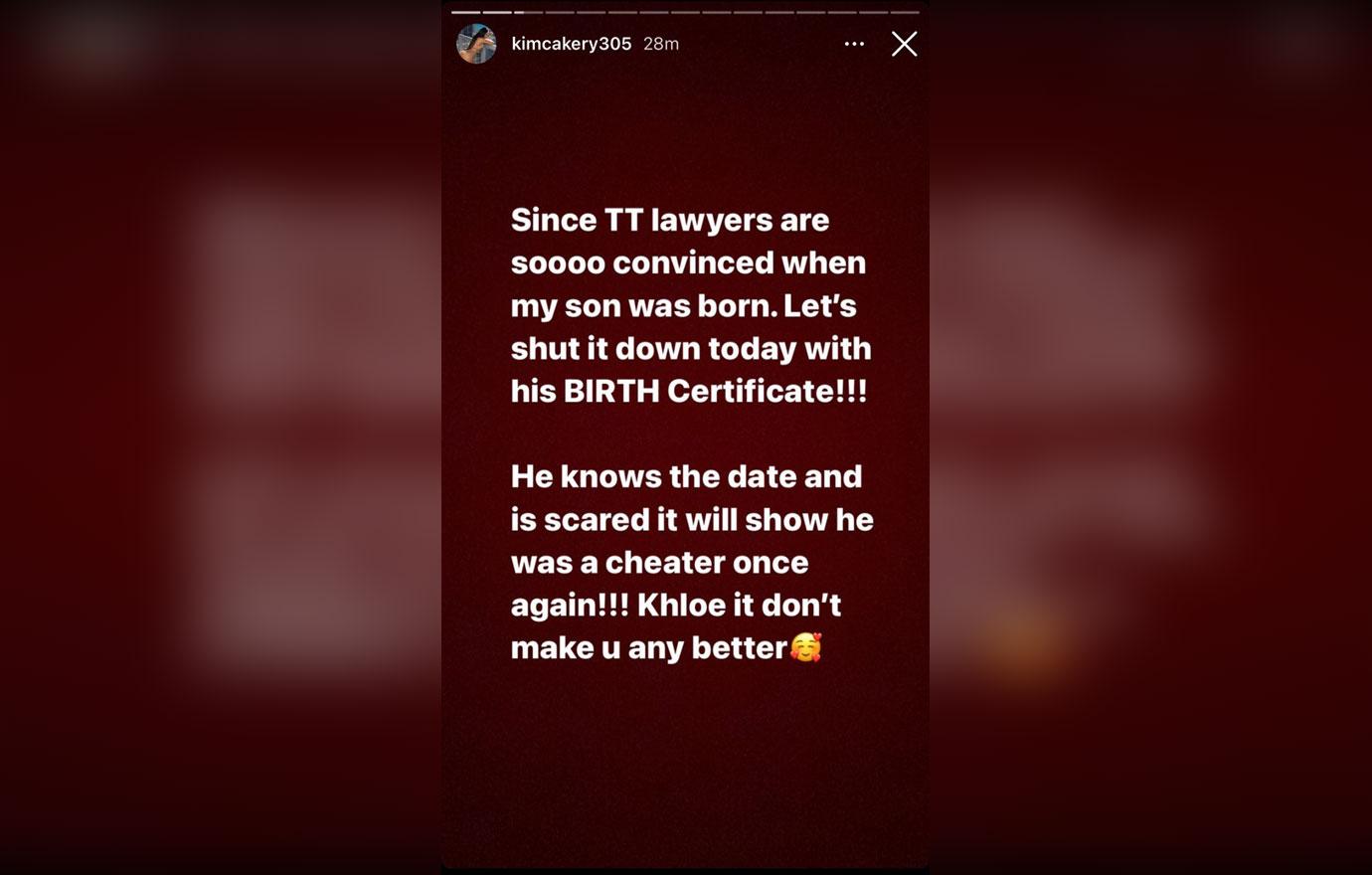 "Khloe it don't make u any better," she concluded with a smiling emoji with hearts.
Article continues below advertisement
Thompson and Craig began dating in 2014 and broke up in 2016 while Craig was pregnant with the couple's son, Prince. At the time, there were rumors that Thompson cheated on his first baby mama with Kardashian — the two were first spotted together in September of that year.
Article continues below advertisement
In her next post, Alexander shared her son's birth certificate, confirming that son Peyton was born July 6, 2015, and will turn six this year. "Now lets talk," she wrote, adding: "BOOM," with a mind-blown emoji. She also claimed in a separate Instagram Story that her son has the Boston Celtics player's last name, saying there was "never a reason to think he wasn't [Tristan's]," via a social media Q&A.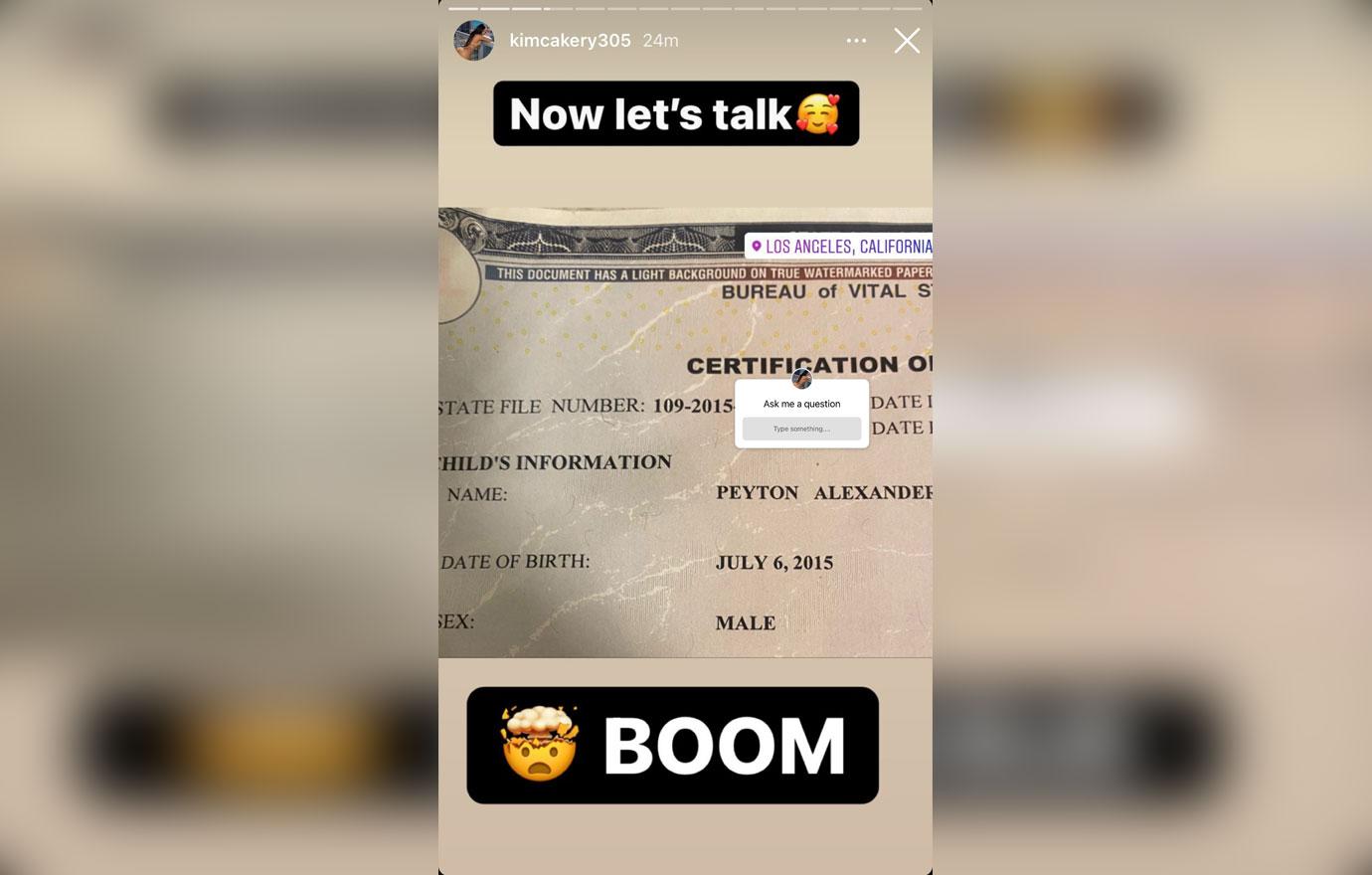 Article continues below advertisement
Kardashian's lawyer fired off a legal threat after Thompson filed a libel suit last May. At the time, Thompson agreed to take a DNA test at a reputable lab that both parties approved of. The results proved Thompson was not the father. Nonetheless, Alexander continues to troll the 30-year-old and Kardashian on social media.
Most recently, Alexander posted a photo of her alleged Instagram direct messages, showing that Kardashian reached out to her on the social media platform about Thompson's apparent love child. Shortly after, she admitted to fabricating the alleged message but doubled down on her claim that Thompson fathered her child.
Article continues below advertisement
In light of her most recent social media tirade, Kardashian's lawyer, Lynda Goldman, sent the accuser a second cease and desist. In the legal threat, Goldman slammed Alexander's claim that the test was done in a "Kardashian-affiliated facility," stating it was done at one of the "most reputable labs in the country, and your own lawyers approved it and accepted the test results."
Article continues below advertisement
In regards to her fabricated message, Goldman insisted Alexander "put words in [Khloé's] mouth that she never said and that she wouldn't say. You faked the whole thing. And you have now publicly admitted it."
While Alexander admitted during her Q&A that Thompson wasn't with Kardashian when she allegedly hooked up with the athlete, Thompson has been unfaithful to the KUWTK reality star in the past.
Article continues below advertisement
The mother-of-one took Thompson back after he famously cheated on her in 2018, just days before the reality star was due to give birth to their daughter. One year later, it was revealed he kissed Kylie Jenner's ex BFFL, Jordyn Woods, at a party.
And while Kardashian seems to be giving Thompson the benefit of the doubt, he recently found himself in hot water once again after Instagram model Sydney Chase claimed in April that she had a sexual relationship with Thompson. Their alleged fling began in November after Thompson told Chase he was single, according to the 23-year-old.