NEWS
Former Vice President Walter Mondale Dead At 93 — Joe Biden, Kamala Harris, More Pay Tribute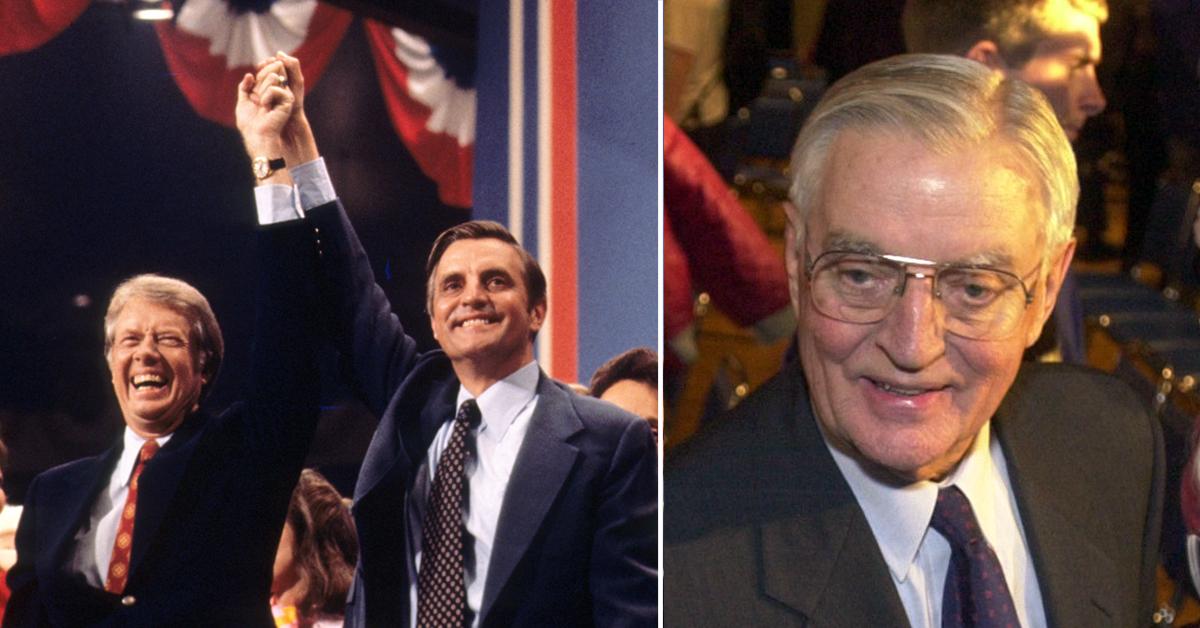 Walter Frederick "Fritz" Mondale, vice president to then-president Jimmy Carter, died on Monday, April 19. He was 93.
Article continues below advertisement
"It is with profound sadness that we share news that our beloved dad passed away today in Minneapolis, Minnesota," Mondale's family said in a statement. "As proud as we were of him leading the presidential ticket for Democrats in 1984, we know that our father's public policy legacy is so much more than that."
Article continues below advertisement
Before his passing, Mondale penned a farewell message to his team, explaining that his "time has come," and that he was ready to rejoin his wife Joan, who died in 2014, and daughter Eleanor, who died in 2011 from brain cancer.
Mondale served as Carter's right hand from 1977-1981. "During our administration, Fritz used his political skill and personal integrity to transform the vice presidency into a dynamic, policy-driving force that had never been seen before and still exists today. He was an invaluable partner and an able servant of the people of Minnesota, the United States, and the world," Carter said in a statement.
Article continues below advertisement
Mondale graduated from the University of Minnesota Law School in 1956 and served as the state's attorney general in 1960. He later served on the Senate from 1964-1976, when he accepted the vice presidential nomination.
Article continues below advertisement
Mondale's legacy included passing the Fair Housing Act to prevent racial discrimination in housing and Title IX, part of the Education Amendments of 1972.
Article continues below advertisement
"When President Obama asked me to consider being his Vice President, Fritz was my first call and trusted guide. He not only took my call, he wrote me a memo," he said. "It was Walter Mondale who defined the vice presidency as a full partnership, and helped provide a model for my service."
Article continues below advertisement
Mondale ran for president in 1984, winning the democratic nomination but falling short in the race, losing to Ronald Reagan. The former vice president made history with his ticket, nominating Geraldine Ferraro as his running mate, the first woman on a vice presidential ballot.
Current Vice President Kamala Harris, who made history as the first elected woman vice president and first of African-American and South Asian decent, spoke on Mondale on how he redefined what it meant to be a vice president.
Article continues below advertisement
"He brought the President and the Vice President closer together, re-defining the relationship as a true partnership," she said. "Vice President Mondale worked side by side with President Carter as the two endeavored to end the arms race, promote human rights, and establish peace."
Mondale is survived by his two sons, Ted and William Mondale.