Why Is Tori Spelling MIA From Dean McDermott's Recent Posts? Canadian Actor Sets The Record Straight
Pitches be crazy! Dean McDermott recently enjoyed America's favorite pastime, but a few fans couldn't help but wonder why he didn't take Tori Spelling — his wife of 15 years — out to the ballgame, too.
Article continues below advertisement
The 54-year-old took to Instagram to share a photo of himself at Dodgers Stadium on Sunday, June 11. "My very first @dodgers game. Amazing seats!!!!!" McDermott wrote, including the hashtags #dodgers #luckyguy".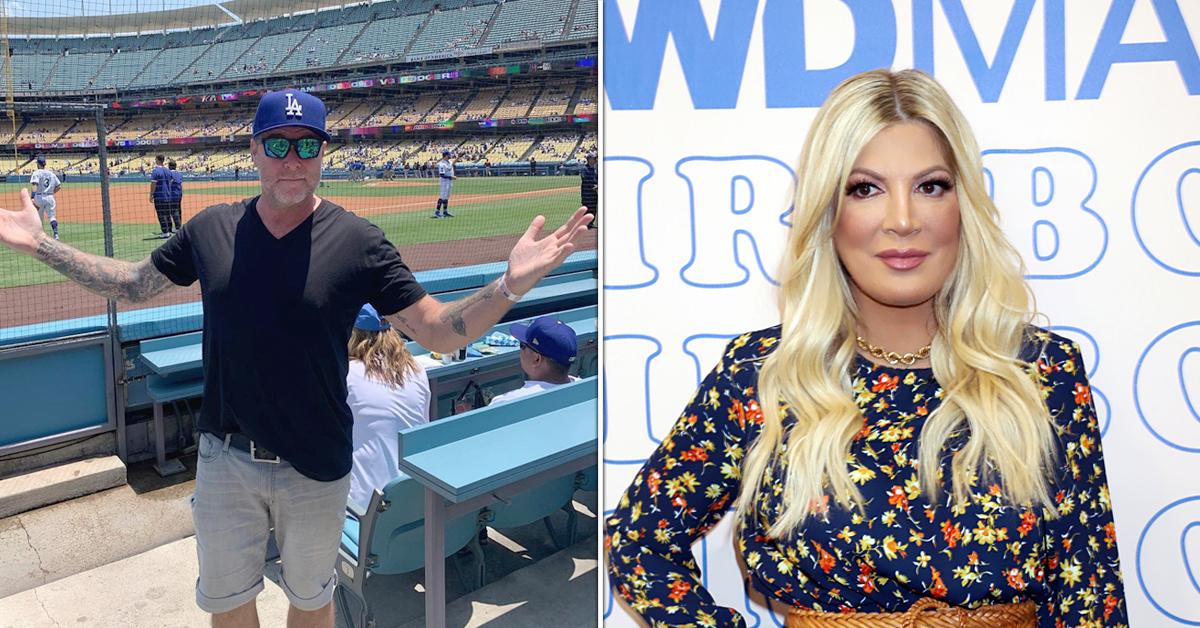 Article continues below advertisement
However, some of his 135,000 followers were wondering why Spelling, 48 — and the couple's children, Liam, 14, Stella, 13, Hattie, 9, Finn, 8, and 4-year-old Beau — were not around for the outing. "WTF where is your wife & kids.. never see you with them.." one person asked. Another wrote, "Never see pictures of you and Tori anymore ???"
Article continues below advertisement
The former Chopped Canada host took the opportunity to set the record straight, responding, "Has it ever occurred to all you people commenting 'where's your wife and kids' that they're not into baseball????"
As far as his social media activity goes, McDermott hasn't shared a photo of — or with — Spelling since December 2020, when he posted a photo of his family posing for a Christmas card. The actor was noticeably missing from the shot, as he was filming a project in Toronto. (However, Spelling held up a photo of the Due South actor in his absence.)
Article continues below advertisement
Still though, McDermott and Spelling have stayed mum on the status on their marriage, but all signs are pointing to trouble in paradise. The BH90210 star has been spotted sans her wedding ring in the past few months — and she recently revealed on Jeff Lewis' SiriusXM podcast that the two are sleeping in different beds.
As OK! previously reported, the Canadian actor — who cheated on Spelling in 2013 — took issue with the actress announcing the True Tori costars were spending their slumber apart. "Tori airing their dirty laundry was a real kick in the teeth," a source told OK!, adding, "Dean would like to tell Tori to tell him how she feels instead of hearing about it on the radio."
Article continues below advertisement
Meanwhile, McDermott isn't the only one enjoying time away from their spouse. Spelling recently took to Instagram Live while enjoying a boozy night out with pals at a star-studded dinner party. "We had the most amazing dinner … I'm grateful for my friends and I'm grateful ... this is the first dinner party I've been to in two years because of COVID. I'm grateful for friends, I love you very much," the Mystery Girls actress said, before cryptically ending the clip: "Goodnight you guys, love you, hold your friends near, always, bye."