PHOTOS
Andy Cohen Posts Shirtless Photos Of His Friend Anderson Cooper Because He Was 'Bored'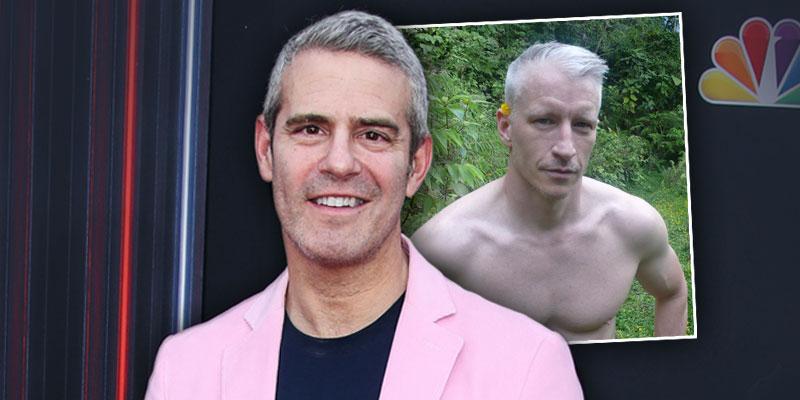 If you're not irritating your bestie are you even friends? Andy Cohen has a strange way of showing love to his friend Anderson Cooper. The Watch What Happens Live! host posted a series of shirtless photos of the CNN anchor on Instagram, Tuesday, September 1.
The 53-year-old news anchor was pictured posing with a flower behind his ear surrounded by trees in one photo, and in the other photo, he was shown standing shirtless on a boat with a towel in his hand.
Article continues below advertisement
Cohen captioned the photo: "If it were a normal year, I'd be on vacation with my pal… threatening to post shirtless pics of him," he said. "Well, it's 2020 and I'm sitting on my deck so I figured I'd just post without asking and piss him off! #SilverFox."
Fans of the handsome news anchor were quick to praise the photos, with one user commenting "I demand more #silverfox content!" While another wrote "Hubba Hubba!!!" With a third user saying "Thank you for your service to the nation."
'RHONJ' DANIELLE STAUB LAUNCHES ATTACK AGAINST ANDY COHEN AFTER ENDURING 'DECADES' OF 'PAIN'
Cooper has yet to publicly acknowledge the photos the 52-year-old late-night host posted of him, but Cohen revealed in his Instagram Stories that "Anderson is so pissed at me" for sharing the personal photos.
"Listen, I'm just sitting here, bored under a blanket," he explained in the video. "All that's here is my son Ben's little drum set. Ben is sleeping, and I'm bored, so what else am I supposed to do?"
Article continues below advertisement
"On paper, it seemed to make sense for us to have dated," Cooper told Entertainment Weekly in 2015, to which Cohen chimed in, "I have no regrets for how it worked out, trust me."
The besties have established a working relationship as well. They have gone on a nationwide speaking tour together titled AC2: An Intimate Evening With Anderson Cooper and Andy Cohen, since 2016. They have also cohosted CNN's New Year's Eve Live special.
ANDY COHEN REVEALS WHAT IT'S LIKE TO FILM 'REAL HOUSEWIVES' DURING COVID-19
What has really bonded Cohen and Cooper's friendship is their two sons Ben, 18 months, and Wyatt, 4 months, respectively. On an episode of WWHL in June, the two toddlers virtually met for the first time.
"Look, that's going to be your good buddy Wyatt," Cohen said to Ben at the time. The dads welcomed their baby boys via surrogate. Ben was born in February of 2019 and little Wyatt was born the following year.