PHOTOS
Selfie Tips! Learn How to Take a Perfect Selfie Like Kendall Jenner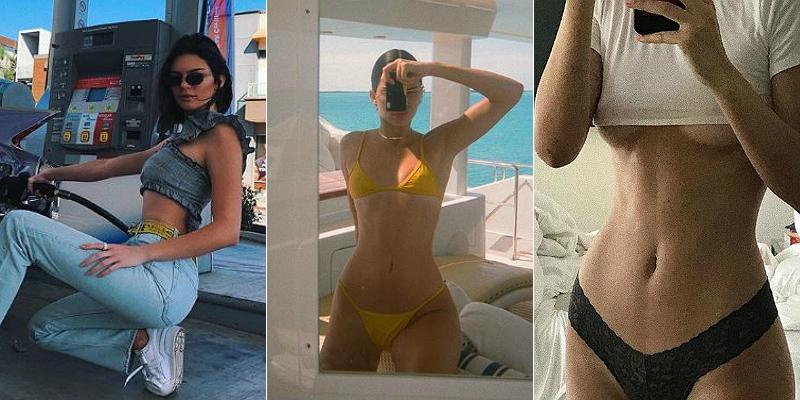 Article continues below advertisement
The Keeping Up with the Kardashian star's Instagram is a mixture of her magazine and runway photos, family photos, and throwbacks, but when she's got her smartphone in hand, she loves to express herself and share some fun—and sometimes private—moments with her fans.
HOT! 69 Of The Sexiest Celebrity Selfies Of All Time!
The model also has some selfie tricks up her sleeve and just for you! Here are 15 ways Kendall Jenner's selfie tips can teach you how to capture that perfect personal moment.
1. KNOW YOUR BEST POSE
If there's a pose you like when you take a selfie, capitalize on it. Jenner loves her lanky pose, as well she should, showing her whole body leaning up against something or standing there in a contemplative mood.
Best tip? "You have to know your face: everybody has their good side," Jenner told Estee Lauder. Also, popping one leg out will make you appear taller. Definitely going to try that.
Article continues below advertisement
2. CHOOSE UNIQUE ANGLES
Kenny doesn't have a bad angle, to be sure, but she does know how to position herself. She also likes to switch things up, like in this pic when she was getting gas. Cool, sunny—and very Californian.
Best tip? "I actually like to keep it really simple. It's all about knowing your light and angles," Jenner once told AOL.
3. SHOOT FROM ABOVE
Jenner's sister, Kim Kardashian, is a big proponent for taking selfies with the smartphone above her head, looking up, and Kendall listens to her sister, like in this shot with the model and her mom, Kris Jenner. They both looked fab.
Best tip? It's just a more flattering angle almost every time, especially the older you get.
Article continues below advertisement
4. PICK THE BEST LIGHTING
It's usually a good idea to have natural light when taking a selfie, but you can also play around with the lighting like Kenny was doing in this Insta-snap. Sitting on a boat in her stylish bikini, wearing cool shades and sipping on some wine, Kendall chose to have the sun behind her, giving off a mysterious air.
Best tip? "If you're not in the right light it just won't work," she confessed to Estee Lauder. "I like to keep it pretty natural—or black and white is always cool."
5. FILTERS CAN BE FLATTERING
Although the KUWTK star doesn't like to use photos filters to enhance her pics, she does love her some fun and bright Insta-Snapchat filters, especially the wreath of flowers. Have to admit they do make you look gorgeous, even when you already are. She looked amazing in this snap. Wowza.
Best tip? One of Kendall Jenner's selfie tips is to throw in a soulful song like "Changes" by H.E.R. and Insta-story it!
Article continues below advertisement
6. JUST GO COMPLETELY SILLY
If the mood strikes, you got to have fun with your selfies. Here, Jenner was all pretty in pink, kicking it back to the 1950s, with an old-style bathing suit, wide-brimmed hat—and a big, pink flamingo float.
Best tip? What's a great selfie without a big, pink flamingo float? The point is, selfies don't always have to be glamorous. It's an art form, not rocket science, so be nutty if you want to.
7. THE ART OF THE MIRROR SELFIE
Honestly, this is where the Kardashian-Jenners excel the most. They are all great at taking selfies in the mirror—bathroom, bedroom, and in this case, on a boat. Kenny in her yellow bikini, with the gorgeous ocean reflected in the mirror behind her, gives us life.
Best tip? Kendall talked about her mirror-selfie expertise on her now-defunct app. One suggestion is to look at your phone instead of in the mirror (even though in this photo she's looking through the camera phone). Also if the mirror has a pretty frame, put it in the pic!
Article continues below advertisement
8. GO NAKED OR GO BUST
Another thing the Kardash-Jens love to do is showing off their amazing bodies. They all have them, and in this sexy snap, Kendall was taking another mirror selfie and looked to be just waking up in a hotel room. You know, in a crop top, showing off serious underboob, and panties, like you do. The crumpled sheets in the background was a nice touch.
Best tip? Kendall wrote on her website that a tight crop keeps things interesting and a little mysterious. She ain't kidding.
9. STYLISH DUDS LOOK GOOD, TOO
Sexy, half-naked pics is Kendall's jam, but in this selfie snap, it was those boots! Her caption, "Playing dress up" doesn't even really cover half of it. Oh, and check out that amazing mirror frame!
Best tip? Look, you might not have access to the same shoes and clothes a model like Kendall gets, but if you've just bought a stylish pair of boots, or the cutest dress, or the best fitting jeans, take that selfie.
Article continues below advertisement
10. THE BLING'S THE THING
One of Kendall's signature accessory is chokers. She loves them and this gorgeous diamond choker in this pic just accessorized the heck out of this selfie. Of course, the black strapless gown and Kendall pushing up her boobs with the caption, "gangs all here" was just icing on the cake.
Best tip? A fine piece of jewelry can make any selfie more glamorous. Also, per Kendall's suggestion, "if it's all about the outfit and your head isn't showing, keep your phone at chest height and point it down for the perfect angle." Or in this case, have someone else take the pic because your hands are full.
11. BE HONEST AND OPEN
The reality TV star wasn't feeling it in the pic—and she let fans know she was a little lonely with a sad look on her face. Kendall has been pretty open about her struggles with anxiety, and in this bathroom selfie, she had an honest moment.
Side note: People went a little nuts thinking Kendall was pregnant when she posted this snap. Her response? "I just like bagels ok!!"
Best tip? If you feel like sharing a private moment with your selfie, even if it's to say I'm feeling kind of crappy today, do it. You'll see how many people will understand and appreciate your honesty.
Article continues below advertisement
12. SHOW OFF SOMETHING UNIQUE ABOUT YOURSELF
This quick Insta-story showed a little of Kenny's sense of humor, which is always good. Trying to be all cute with the puppy-dog filter, her friend off camera says something and suddenly Kendall is all "sus," as in being shady. It's hilarious.
Best tip? When posting your selfies, tell them a little something about yourself they might not know.
13. TELL A STORY WITH FRIENDS
This is also a great way Kendall likes to share, by posting snaps with her friends in exotic locales. Naturally, it also invokes a little jealousy at the same time, like you want just a smidgen of Kenny's life.
Best tip? Vacation selfies are the best and like Kendall recommends, "Grab a friend! It's even better when you're both taking pictures at the same time."
Article continues below advertisement
14. PERFECT THE PUCKER
First of all, the model just looked drop-dead gorgeous in this little Insta-vid, amirite? Guess she was on the way to some event, but at the end just blew the classic kiss to her fans. It's definitely a great selfie move.
Best tip? Probably get one of Kylie Jenner's lip kits to plump up those puckers, and as Kenny says, "Practice! Practice makes perfect."
15. DON'T WORRY WHAT PEOPLE SAY, JUST GO FOR IT
There's that sense of humor again. Kendall wearing what looks like a giant fur heart with over-sized glasses conveys her carefree spirit. Now, while some of the comments on this post slammed the model for various reasons, she didn't let it bother her that much.
Best tip? You be you—and don't sweat it.