PHOTOS
Courtney Stodden Opens Up About Suicide Attempt After Finalizing Divorce From Doug Hutchison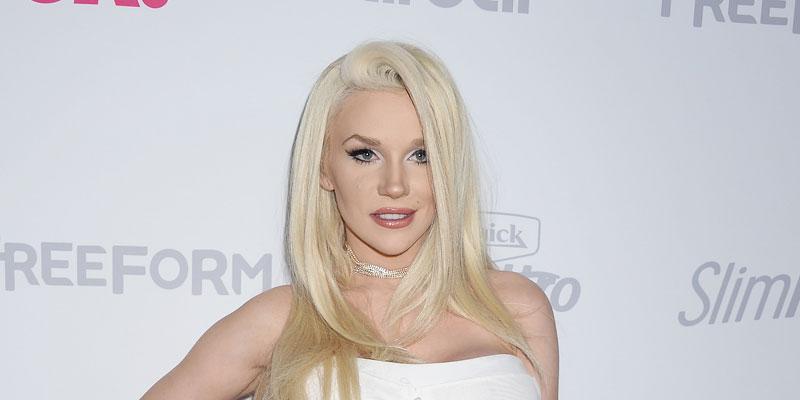 Article continues below advertisement
Courtney, 25, revealed that she attempted to hang herself in 2019. "It's no secret that I have struggled with depression. I didn't see a way out of all the pain and the grief and the insanity that I've struggled with in my life. I just feel like it all got too much for me. I decided in a really drunken state that this was the best option," she explained.
She continued, "All I remember during that time, during those few moments I was just thinking God, this is the best option. I don't know what else to do. I took my pants off. I took my jeans off. I wrapped it around the shower door and I just prayed and the next thing I knew was that my head hit the toilet or something and the shower door broke. By the grace of God, it didn't work. I still can't believe that I did that. I sit here right now in shock."
Article continues below advertisement
Courtney famously married Doug when she was just 16 and he was 50 in 2011. "I believe Doug and I had so much love that was toxic given the situation. I was a child. You can't get around that I was a child. I don't think Doug ever saw me as a child," she admitted.
Courtney has been vocal about her struggles with her mental health and alcohol consumption. She made the decision to get sober after celebrating her 25th birthday on August 29. "The birthday gift I'm giving to myself is going alcohol-free. I've been drinking alcohol since I was 16. And mind you I didn't drink everyday, but I drank every other day. I could kick back two bottles of wine, easy, and that just became normal. I grew up in an environment where alcohol was okay ... when I got married so young, Doug and I would indulge and we'd drink quite a bit. I'm going through a transformation, I hit my mid 20s, and the other day I got really sick from drinking three martinis. Something hit me ... maybe I need to look at this situation with alcohol," she explained in an Instagram video at the time.
Article continues below advertisement
"I'm a great actress, and I can fool your pants off and tell you I'm happy when inside I'm crying. A lot of people do that. Depression doesn't mean someone walks around with a dark cloud over their head and it's obvious. It means that you gotta reach out. If you love someone, if you care about your friends and family, reach out to them and say, 'Hey, are you okay?' Don't be afraid of depression. Don't be afraid of yourself. Don't be afraid of someone who had depression, don't think they're weird," she said in a YouTube video.
Article continues below advertisement
Courtney has credited her music with being a form of therapy. She is currently busy putting the finishing touches on her album Courtney Rx.