PHOTOS
Cover Story: Brad's Marriage Ultimatum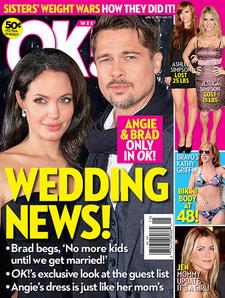 Superstar parents Brad Pitt and Angelina Jolie are the world's most glamorous couple — but one thing has been missing from their seemingly perfect lives: A marriage certificate.
Now a friend of the pair tells OK! that Brad, 45, has issued Angie, 33, an ultimatum: "Brad's told her, 'Marry me, or it's over.' "
What's more, another source says, Brad told Angie — who hopes to add to their six children — "he definitely wants to get married before they have any more babies."
Article continues below advertisement
Why is Brad putting his foot down? While his Oscar-winning baby mama frantically pursues film and humanitarian work, he's essentially been a single dad — and he's "stressed out," a friend of Brad tells OK!.
Both Brad and Angie — now holed up at NYC's posh Waldorf Astoria hotel while she films the spy thriller Salt — are even too fried for sex. "Their relationship is so out of kilter, he believes marriage is the only thing that will bring it back around."
MORE PHOTOS OF BRANGELINA:
Expect Brangelina to have an intimate family wedding in New Orleans, where they own a home, according to a source; in homage to her late mom, Marcheline Bertrand, the source tells OK!, Angelina will wear a "romantic, simple dress" modeled on the one Marcheline chose when she married Angie's dad, Jon Voight. For his part, Brad can't wait to make Angelina his bride. "He needs to know Angie is really committed to him," the friend says. "Becoming Mrs. Pitt would give him that answer."
For the complete story on Brad and Angie's plans to walk down the aisle, pick up the new issue of OK! — on sale everywhere Thursday!
By Richard Jerome & Mary Ann Norbom