PHOTOS
Kelly Dodd Admits She Made Up With 'Real Housewives Of Orange County' Enemy Vicki Gunvalson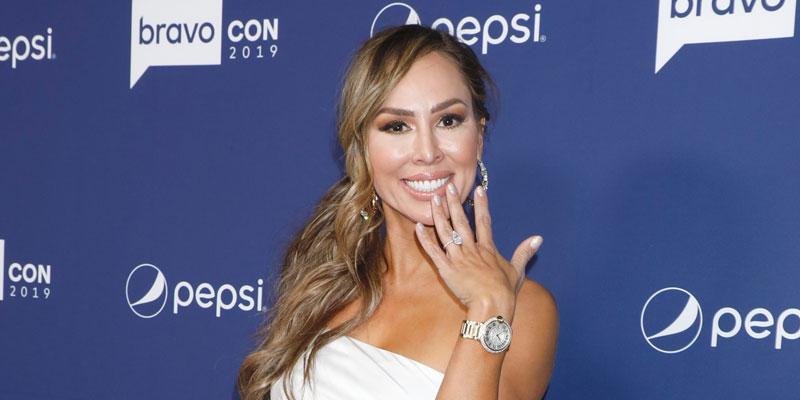 The war of the oranges may finally be over. Real Housewives of Orange County star Kelly Dodd recently revealed that she finally made up with costar and enemy Vicki Gunvalson.
Article continues below advertisement
While speaking with Entertainment Tonight, Kelly, 44, said she reconciled with Vicki, 57. When asked if they pushed their drama aside, Kelly replied, "We did, yeah. I mean, I wish the best for Vicki. I don't want to hold onto grudges with her, but I wish Vicki the best, I really do."
The cast recently filmed the season 14 reunion where Kelly and Vicki got into an epic fight. "Kelly Dodd and Vicki Gunvalson got into the most epic feud during the RHOC reunion. It's by far Vicki's best reunion to date. There was a lot of yelling and finger pointing when it came to these ladies especially," a source dished to HollywoodLife.com last November.
Article continues below advertisement
However, according to reports, Kelly and Vicki hugged things out during taping. The ladies were once BFFs but have feuded throughout the seasons on RHOC.
In season 13, the drama started to heat up when Vicki set up Kelly's ex Michael Dodd with one of her friends. The ladies have gone back and forth with mean comments to each other throughout the show. Vicki once accused the mother of one for using cocaine and Kelly fired back by slamming Vicki's facelift.
Article continues below advertisement
In November, the insurance broker filed a defamation lawsuit against Kelly and sued her for negative comments she said during a trip to Key West, Florida. Vicki was concerned about the way the comments might negatively impact her financial services business and her reputation. She was fighting to stop the comments from airing on television. However, she later withdrew the suit and the two parties resolved the issue.
The OG of the OC was an original cast member on the franchise when it launched in 2006. She appeared as a full-time housewife on every subsequent season until season 14, when producers demoted her. Vicki issued an ultimatum at BravoCon 2019 last month and said that she would quit the show if she was not brought back as a full-time role. "I'm never coming back reduced again. Let's just say that. I'm either in all the way, or out," she said during a panel discussion.
Article continues below advertisement
What are your thoughts on Vicki and Kelly making up? Sound off in the comments below!