PHOTOS
Khloe Kardashian Drunk Dials Cheating Ex Tristan Thompson Months After Breakup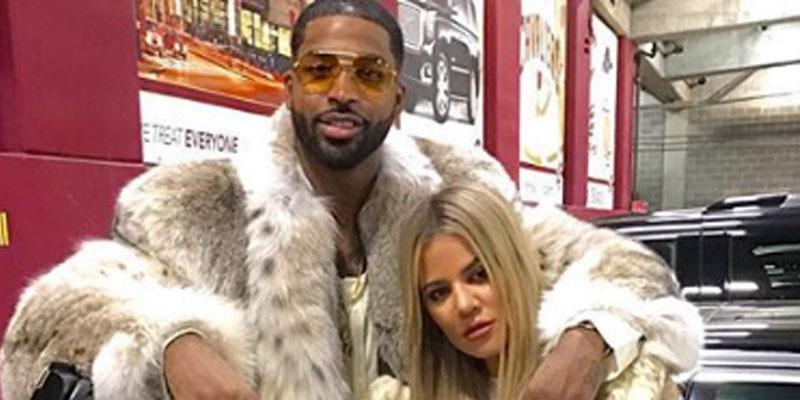 Khloe Kardashian seems to be missing ex-boyfriend Tristan Thompson months after their split. An insider recently dished that the Good American CEO has drunk dialed her baby daddy on more than one occasion.
Article continues below advertisement
"Khloe drinks most, if not every, night of the week these days," a source explained to RadarOnline.com. "And more often than not it ends up with her calling Tristan and slurring down the phone about how badly he messed up but she still misses him."
"It's gotten so bad he ignores her calls if it's past 8 p.m., which only sends her into this intense frenzy," the insider continued. "She's even sent her assistant over to his place if he doesn't pick up, demanding that he calls her back right then and there."
Article continues below advertisement
Khloe, 35, and Tristan, 28, split in February 2019 after the NBA star was caught cheating with Jordyn Woods. Tristan and the 22-year-old model were spotted kissing at a house party at the time. The two share a daughter named True Thompson.
Earlier this month, another source told the publication that the Cleveland Cavaliers player and the Keeping Up With The Kardashians star were reconnecting. However, their relationship is "a secret."
Article continues below advertisement
"Khloe and Tristan are 100 percent back together. He spends the night there frequently when he is in town. It's a secret because she knows how much everyone would judge her," they said. "But she loves him despite how sh***y he treated her."
Tristan is still fighting to keep his baby mama and loves to shower her with lavish gifts and flirty Instagram comments. Last month, Khloe shared a promotional photo for her upcoming KKW Fragrance collaboration where the reality star sported dark curly hair and wore a tight pink bodysuit. Tristan then left two heart emojis and a crown emoji in the comments section, referring to her as his "Queen."
Article continues below advertisement
The Revenge Body personality took to Instagram on December 5 to talk about a recent KUWTK episode that showed Tristan gifting her a diamond necklace.
"I'm seeing a lot of commentary about last week's episode of Keeping Up with the Kardashians. As much as I hate speaking on all of this because I'm sure everybody is so over it, as am I, but I'm frustrated that people try to create something that's not really there. I don't hold any negative or hateful feelings towards ANYONE! I mean that. Life is short! We are all humans trying to figure out this thing called life. Who am I to condemn anyone else? Yes, I'm allowed to feel hurt and pain. It would be unnatural for me to pretend as if I don't. Personally, I don't want to be carrying around a hateful heart. I crave peace in my life. Me holding onto hate is only going to hurt me in the end," she wrote.
What are your thoughts on Khloe drunk dialing Tristan? Sound off in the comments below!