PHOTOS
'Competitive' Kim Kardashian Accused Of Buying Instagram Followers Just To Keep Up With Younger Sister Kylie Jenner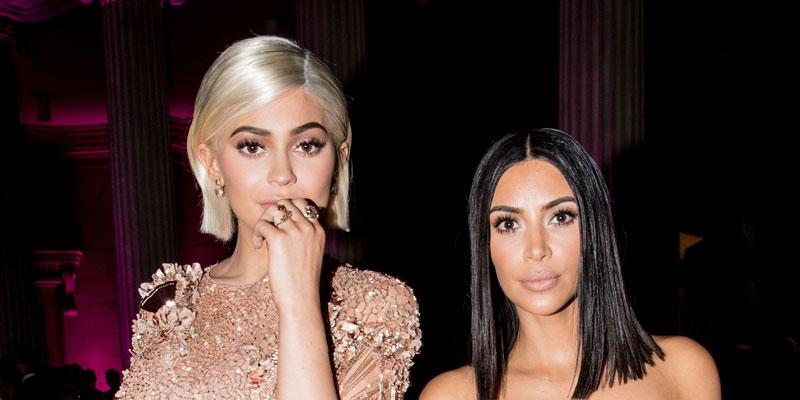 Kim Kardashian is going out of her way to make sure she stays in the same league as younger sister Kylie Jenner. The KKW Beauty founder is reportedly paying a third party to increase her Instagram follower count in an effort to keep up with the LipKit billionaire on social media. Kim currently has a million more followers than Kylie, but the engagement on her posts is much lower.
Article continues below advertisement
"Kim is really insecure that Kylie's follower count is always rising. She always wants to be on top; she's really competitive," a source told RadarOnline.com. An insider told the outlet that at least 20 percent of Kim's followers are fake profiles, which could explain the lower engagement on her posts. Kim currently has 154 million followers compared to Kylie's 153 million, but Kylie gets on average 30 percent more likes when she posts a selfie.
"She gets three-to-four times more likes/comments than Kim. It's really killing Kim's ego. That's why Kim is going on a media tour right now; she's trying to encourage Instagram to remove the like count so she doesn't look less popular than Kylie," the source added.
Article continues below advertisement
In July, Kylie was crowned the highest paid star on Instagram on the 2019 Instagram Rich List. The list is compiled yearly by Hopper HQ, a company that analyzes data and metrics to determine how much a celebrity can charge for an individual post. Kylie was estimated to be able to charge up to $1,266,000 per post on average, whereas Kim came in fourth and could command an estimated $910,000 per post. Other celebs that still made the list but came in behind Kylie include Beyonce Knowles, Justin Bieber, Ariana Grande, and Selena Gomez.
Fans didn't think it was a coincidence when Kim developed KKW Beauty following the massive success of Kylie Cosmetics. Kim insisted that there was no rivalry between them during an appearance on Jimmy Kimmel Live. "We learn a lot from each other and we're really supportive. There's no rivalry at all. We both have completely different audiences and different makeup techniques," she said.
Article continues below advertisement
"I'm so proud of her. To think in her early 20s, she built a business off of something that she first was insecure about and finding confidence and, you know, just tapping into that and figuring out how to make an amazing product and just being true to herself and doing what she loves to do, that's so inspiring and so amazing and I'm so proud of her," Kim told Entertainment Tonight in November.
Article continues below advertisement
What do you think of Kim trying to keep up with Kylie on Instagram? Sound off in the comments below!