PHOTOS
Lindsey Vonn Proposes To P.K. Subban Four Months After He Popped The Question — 'Women Aren't The Only Ones Who Should Get Engagement Rings'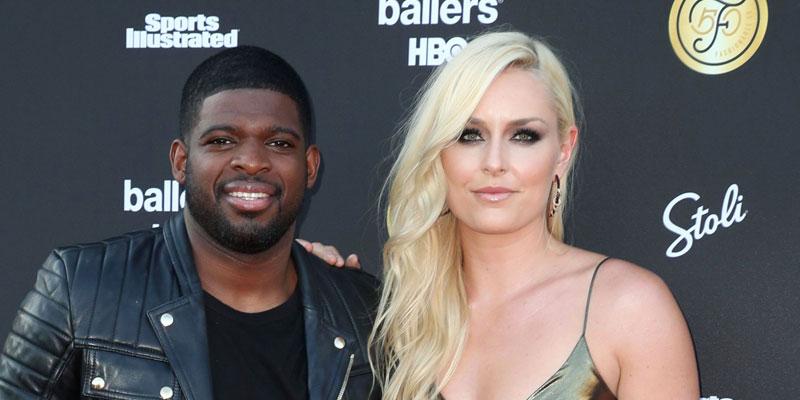 Article continues below advertisement
"Merry Christmas and happy holidays everyone!! On our 2 year anniversary, in a 'non traditional' move, I asked PK to marry me and he said, Yes! Women aren't the only ones who should get engagement rings! #MerryChristmas #equality," she captioned a photo of the pair in matching pajamas in front of the Christmas tree with their dogs.
"These two are just adorable. I love their love," one fan wrote in the comments section of Lindsey's post. "I'm so happy for you girl! You seem to have found a really good man that appreciates all that you are. Now make babies already!" another person added. "He's gotta be the luckiest man in the world," a third fan noted.
Article continues below advertisement
The New Jersey Devils star proposed to Lindsey with an emerald engagement ring in August 2019. The couple opened up about their love story in Vogue and Lindsey revealed that she knew her relationship with P.K. was different very early on. "Right off the bat, I knew he was different. But I'd been married before, so I was pretty hesitant to let myself think that I could find someone that I would want to be married to again. After a few months of dating, I knew he was the one I wanted to be with, though. He makes me happy, and he's so positive and energetic," she gushed in the interview.
At the premiere of her HBO documentary Lindsey Vonn: The Final Seasonin November 2019, Lindsey hinted that she was eager to have children with her future husband. "I'm so lucky that I found P.K. He's been such a rock in my life, especially in retirement ... I just feel very lucky to have found someone who loves me for me and not as a skier or anything else. He just loves me for me and that's something that I've never found before. I'm looking forward to being his wife and starting a family if we're lucky enough to be able to do that. This is the start of a big and exciting chapter in my life," she told The Los Angeles Times.
Article continues below advertisement
Article continues below advertisement
What do you think of Lindsey proposing to P.K.? Sound off in the comments below!