PHOTOS
Meghan King Edmonds Says Estranged Husband Jim Edmonds Went On Vacation With Woman They Had Threesome With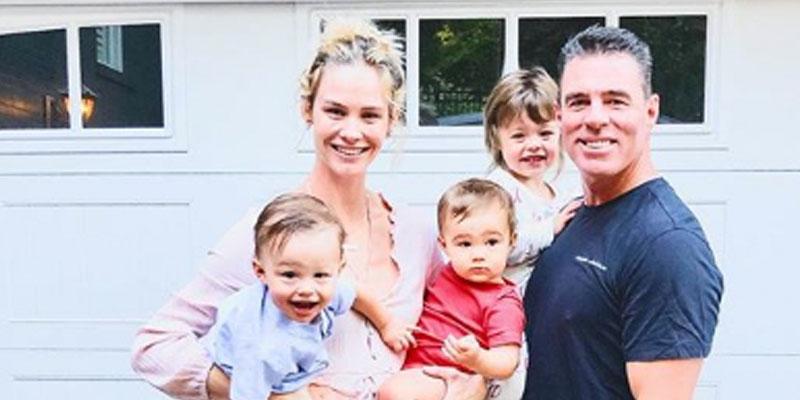 Meghan King Edmonds slammed her estranged husband Jim Edmonds during her Intimate Knowledge podcast. The Real Housewives of Orange County alum claimed the MLB player took the woman they had a threesome with on a trip to Cabo.
Article continues below advertisement
Meghan, 35, alleged that the woman is a former friend of hers that Jim, 49, has been recently dating. "We had just gotten married and I knew that Jim had this bad boy kind of past," Meghan told her cohost Brooke Burke and intimacy coach Lila Darville on the show. "We were newlyweds and trying to have fun and he wanted to have a threesome. I thought about it and I thought, 'OK, maybe, yeah sure.'"
Article continues below advertisement
"So, we decided to have a threesome — a consensual, adult decision — with a friend of mine. I felt very comfortable with her," the Bravo star continued, adding that she felt "ashamed" about what went down.
Meghan said that her friendship with the woman faded away. "When he goes to Cabo for a birthday party, from my understanding, he takes this girl with him. This threesome girl," the mother of three said. "This girl who I thought was my friend. I cast aside my uncomfortability with a threesome, everything I had in my head about a threesome being weird and gross, because I was fun and wanted to do things for my husband."
Article continues below advertisement
Meghan was then asked if she thought Jim and the woman had an affair. "I think they've probably had sex more than the one time," she responded.
However, Jim denied rumors of an affair and gave a statement about his relationship to Us Weekly. He told the publication that he hasn't "spoken to this girl in years."
Article continues below advertisement
The father of seven continued, "The accusations of having affair are completely false and ridiculous. As far as the threesome goes, there was a few more than one, but initiated by her and her only her. In fact, she begged me for more, but they made me uncomfortable."
The Fox Sports Midwest broadcaster and the St. Louis native split in October 2019 after five years of marriage and three children together. Rumors that Jim was sleeping with his children's nanny surfaced soon after he filed for divorce. However, he and the nanny both denied cheating allegations.