PHOTOS
Miley: Keep Me Away from Sin City!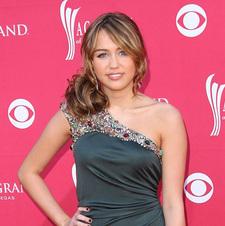 Lots of strange things happen in Las Vegas, even to celebrities. Just ask Britney Spears, who had a quickie marriage (and even quicker annulment) to high-school pal Jason Alexander in 2004. Perhaps that's why teen superstar Miley Cyrus tells OK! it's best if she stays as far away from Sin City as possible.
When OK! caught up with the 16-year-old Hannah Montana star before Sunday night's Academy of Country Music Awards in Las Vegas, she explained that the first rule to keeping her life on the straight and narrow path is to "stay out of Vegas!"
Article continues below advertisement
"I can't be here very long," she explained. "And I try not to be here as much as possible."
Wonder if the Las Vegas tourism board might want to have a word with her after this?
VOTE ON MILEY'S DRESS AND SO MANY OTHERS IN OK!'s EXCLUSIVE BUY IT OR BURN IT GALLERY: