PHOTOS
Taking A Look At The Best Teen Mom Alum Clap Backs To Haters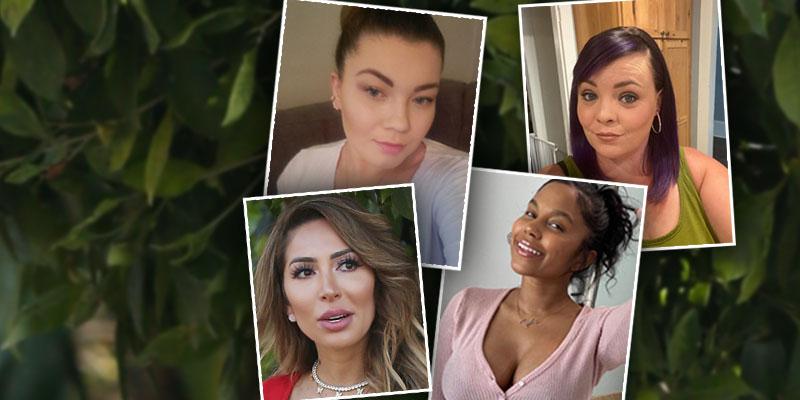 Being on a reality TV show opens you up to a lot of criticism.
No one knows that better than the stars of the hit MTV series' Teen Mom and Teen Mom 2.
The Teen Mom stars were not having it though, and put their haters on blast! Rather it's responding to each other, fans, or mom-shamers, these reality stars stood up for themselves.
Scroll through the gallery below and take a look at the best Teen Mom alum clap backs ever.
Article continues below advertisement
Catelynn Baltierra
Catelynn was accused of "running away" from her family after she announced she would be returning to treatment in order to overcome childhood trauma.
Catelynn clapped back with an epic response!
"For all u haters- YOU DONT KNOW EVERYTHING IVE BEEN THROUGH!" she tweeted.
"Quit acting like you know what I should be doing or shouldnt. I'm NOT running away from my family! Those are the people I love the most!! you ppl are ignorant."
Farrah Abraham
Don't come for Sophia unless she calls for you! Farrah Abraham clapped back at a hater who accused the Teen Mom alum's 11-year-old daughter, Sophia, of not having many friends.
"Does that child have ANY friends? Would love to see her play like a normal kid with other kids," a hater commented on the reality star's Instagram video of her surprising Sophia with a Hello Kitty mirror on Monday, August 10. "Clearly she does!" the snarky mama replied.
"P.s. Covid, a pandemic is going on! Wow," Farrah continued.
Kids are off limits!
Article continues below advertisement
Maci Bookout McKinney
Maci revealed in her book, I Wasn't Born Bulletproof…, that she was mom shamed for having a beer in hand while holding daughter Jayde.
She wrote: "We were doing our fantasy football draft and I was holding a bottle of beer. Taylor innocently posted the photo with the tag, #draftday."
Bookout defended herself by saying: "The fact that I am on television means that everything I do is open to public scrutiny. I have learned not to let it get me down, but it never ceases to amaze me how quick people are to pass judgment."
Article continues below advertisement
Amber Portwood
Amber and Teen Mom alum Jenelle Evans have had a long standing feud for years. Things took an interesting turn when Amber was arrested for an alleged domestic disturbance involving her partner, Andrew Glennon.
Jenelle took it upon herself to create even more drama between the two by smugly stating that "at least she's learned from her mistakes."
Both Teen Mom stars have had extensive arrests and encounters with the law.
Shortly after Jenelle's shade, Amber simply posted a little shade of her own on Twitter, pointing out the 911 call Jenelle placed against her husband, David Eason.
Subtle shade!
Article continues below advertisement
Cheyenne Floyd
Cheyenne was not having it when people were accusing her of using her daughter's illness as a way to seek attention from her ex baby daddy.
"For everyone who keeps saying Ryder was in the hospital because I was seeking attention from Cory, what's wrong with you?" the reality star tweeted in May 2020.
"I allow them to show when Ry is sick to bring awareness to her illness. Other than that, shut the f--k up."
Article continues below advertisement
Kailyn Lowry
Don't tell a mother when she should cut her own child's hair. One fan did, and Kailyn wasn't having it.
Lowry hit back on all the haters after a Twitter user wrote her son Lux needed a haircut, "unless your goal is to make him look like a girl."
She clapped back, "I'll cut it when he tells me he wants to cut it. But you can mind your business lil momma."
Article continues below advertisement
Chelsea Houska
After Chelsea recently announced she was expecting her fourth child on Instagram, most fans were happy for the mom. One user though, shaded the mom for having too many kids.
"Omg. Another baby keep your legs emoji closed damn," the user wrote.
The Teen Mom alum fired back. She even used the leg emoji in her response, writing: "These leg emoji stay open for my husband."
Chelsea, who has referred to adorable husband Cole DeBoer as a "DILF" in the past, also addressed her anxiety and breastfeeding as fans flooded the comments section with questions.
Article continues below advertisement
Leah Messer
Leah went after a mom-shamer who claimed that "if it wasn't for MTV, she'd be sliding down a pole," and her reply was pure perfection.
"That's a good oneeeee but clearly you don't know s–t about me or the life I lived as a child," she wrote with several laughing emoji and a peace sign. "Bioooootch. Get off my page."
Article continues below advertisement
Briana DeJesus
Briana didn't let a comment go unnoticed when a fan tried to say that the reality star needed a man to survive.
The Teen Mom star casually tweeted, "My new bae low-key lit, but let me keep this to myself."
One fan's comment caught her eye which read: "Sisss, focus on ya sic children, I'm starting to think you need a man to survive."
Not letting the negativity get to her, the MTV mama slyly replied, "How do you know it's a person? LMAO."
Article continues below advertisement
Jade Cline
The newest addition to Teen Mom 2 has been mostly receiving positive messages about joining the show. It appears though that her Teen Mom: Young and Pregnant co-star Ashley Jones was not too happy with Jade.
Things got awkward between Ashley Jones and Jade when Dr. Drew asked how the cast of Young and Pregnant felt about Jade switching shows to Teen Mom 2.
Apparently Ashley had created some drama backstage, which prompted Jade to take to social media to clear the air, saying: "There's a clear takeaway that Ashley came ready to go at me and has an issue with me. And I don't give a f–k about her. Jealousy's a bitch and let's be clear — she came on MY show's reunion now to try to start some s–t."