PHOTOS
Emily Simpson Says Vicki Gunvalson Conspired To Get Kelly Dodd Fired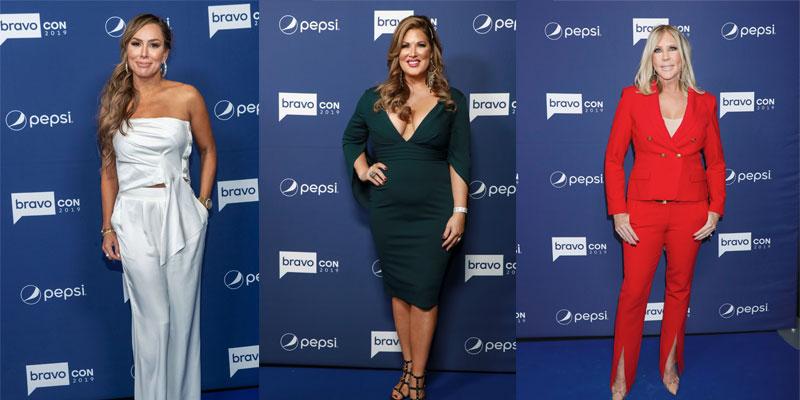 Kelly Dodd knows who her true friends are. The Real Housewives of Orange County star is having it out with costar Vicki Gunvalson and Kelly's pal Emily Simpson has got her back! Kelly, 44, shared a screenshot of Vicki, 57, and Emily, 43, fighting over Twitter where Emily accused Vicki of wanting Kelly to be fired from their Bravo series.
Article continues below advertisement
During the December 10 episode of RHOC, Emily slammed Vicki and costars Shannon Beador and Tamra Judge for being "old."  After the show aired, Vicki took to her Twitter to clap back at the lawyer's comments.
"Watched RHOC last night & was shocked to hear Emily bash me about my age of 57," Vicki tweeted. "Referencing me as 'old, I should be in a convalescent home, and geriatric'. Really? I can't change my DOB and you will get there too."
Article continues below advertisement
"I guess this is what happens when people Emily spend too much time with the vile Kelly," a fan responded to Vicki's tweet. "Yep," Vicki replied. "She drank the Kool-Aid." Emily fired back at Vicki and wrote, "And by 'drank the koolaid' you mean I didn't turn on Kelly and hate her like the three of you wanted me to. Your agenda was to turn everyone on the cast against Kelly and ice her out so she would be fired. i didn't fall for it."
Kelly shared a screenshot on Instagram of Emily and Vicki's tweets and captioned it, "Thank you @rhoc_emilysimpson for having my back!! You are a solid person with such good character .. I love you so much!! ❤️❤️❤️."
Article continues below advertisement
The timing of Kelly's post and Emily's Twitter response comes at an odd time. On December 9, the mother of one revealed that she made up with the Coto Insurance founder. While speaking with Entertainment Tonight, Kelly said she reconciled with her frenemy and pushed their drama aside. "We did, yeah. I mean, I wish the best for Vicki. I don't want to hold onto grudges with her, but I wish Vicki the best, I really do," Kelly said.
Article continues below advertisement
What are your thoughts on Kelly, Vicki and Emily's feud? Sound off in the comments below!